A bespoke suit, a large Starbucks latte with your favorite toppings or tailor-made suggestions at a store.
What's more interesting is the fact that the concept of personalization can be explored in a variety of businesses. With a surge of mobile apps in the retail segment (travel, e-commerce, food delivery, ridesharing, etc.) personalization is one of the key feature that will keep your user hooked to your app- a tad longer.
It isn't surprising that EConsultancy's mobile forecast lists personalization in retail as a trend to watch in 2016! Clearly it isn't a fad but an excellent chance for m-retailers to connect and benefit from this tactic.
In this article, we will evaluate the importance of offering a personalized experience to users on your retail app. Apart from this, we've also discussed the various ways in which personalization can be brought in a retail mobile app.
What Is Personalization In A Retail App & Why It Matters?
Personalization can have many faces, and retail app marketers can leverage this tactic in numerous ways for an app's growth.
A tailor-made or customized approach that is based on a user's behavior is one of the factors that defines personalization in a retail app. Most shopping apps, for example, offer customization via search and features like carousel, in a quest to simplify decision making for a user alongside providing a hint of personalization.
Having understood the concept of personalization, it is important to comprehend why this should become a priority for retail app marketers. We had a look at the Criteo's Q2 Mobile Commerce Report, which throws light on some interesting trends in the mobile retail space.
More than 30% of US e-commerce transactions are now driven by mobile. The same study also states that apps generated over 50% of mobile transactions for retailers* who have made their app experience a priority.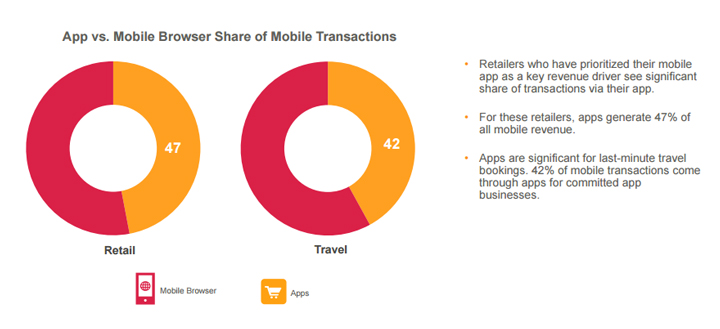 The study also indicates that mobile apps convert sales better than desktop sites, because they offer a better product browsing experience.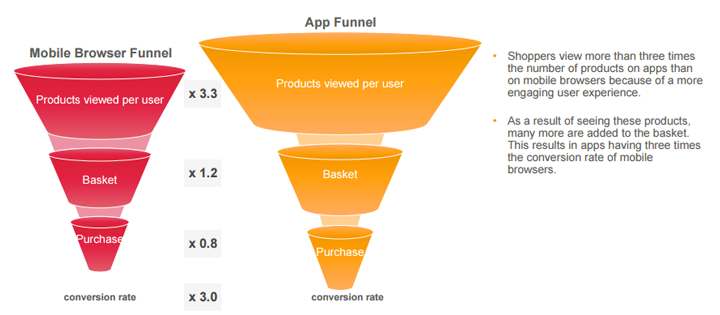 Given that an app can do wonders, it also makes a lot of sense to treat app users in the best possible manner, and there isn't a better way than personalization.
But that's not all. Personalization can be applied to a user's journey right from onboarding till a purchase, kicking shopping cart abandonment in its knee!
We've listed key areas where m-retailers can infuse personalization and keep their users hooked for a tad longer!
1) Personalized Onboarding
They say that the first impression is the last impression. While I beg to differ with this adage in other contexts, when it comes to a mobile app I can totally relate to it. When a user decides to install a shopping/retail app, for them it is no less than visiting a store. The first experience with your app is a pivotal moment for the user. Clearly, you can't make them feel like a headless chook!
A bit of personalization at this stage can increase the longevity of an app many folds. There are various methods of doing that. For example, apps can leverage the data already provided by the user on sign-up and customize the experience for them. This strategy may not always lead to a sale , but will eventually warm up the client for a future sale.
Here's an excellent strategy used by the Beats streaming service app. As a part of their onboarding process, they collect a user's name, gender, mobile number and birthday. This helps the app in addressing each user personally as opposed to the blank 'hey there'.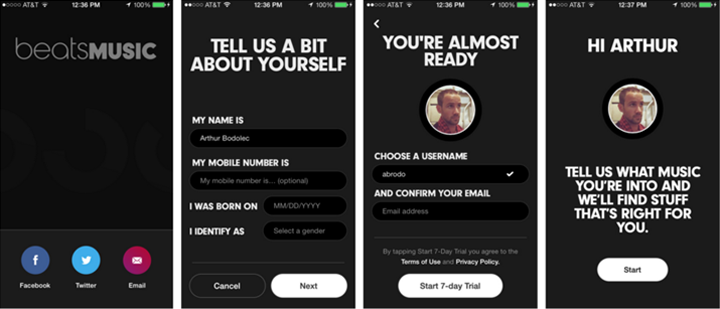 The second step of their personalized onboarding comes into play when they nudge the user a tad more, to be able to further customize their offering. In this step, the app customizes the playlists based on the data punched by the user.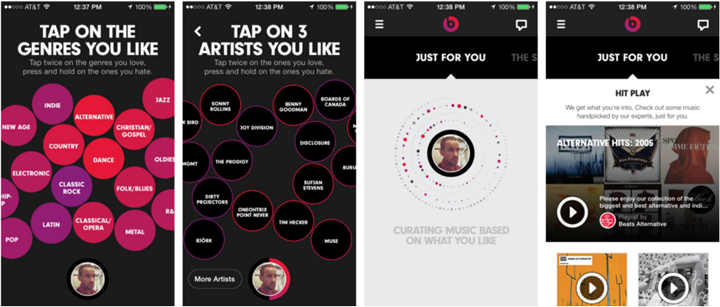 The app offers a 14-day free trial to users and post that is available for $9.99/month. In a time when music streaming is also available for free, features like personalization are one of the key reasons behind millions of downloads backing this app! For other app in a similar category personalization can also propel, In- app purchase.
2) Personalized Content/ Product Recommendations
One of the most significant ways of personalization is via the content that you share with your users. An interesting way of incorporating this in your mobile app is via behavioral targeting.  The most common method of doing so is by studying a user's click behavior- which product categories appeal to them, what kind of search interests him, are a few ways in which app content can be personalized.
A lot of marketers follow an omni-channel approach, and the same data can be used for enhancing an app user's experience as well. Newegg-a consumer electronics focused e-retailer in North America uses the same approach for their users. When a user, uses their desktop version for shopping, the same reflects in their mobile app as well!
Tilly yet another platform introduced features such as auto suggest and product recommendation and were able to increase conversion many folds.
For some apps like Mallzee, personalization is a key part of their offering. This shopping app offers Tinder like shopping experience to users and saves their 'like' and 'dislike' preference in a different feed. This data is used to alert users in case of a drop in price. The app also offers a 'trending' feed where users can choose items in line with their fashion style.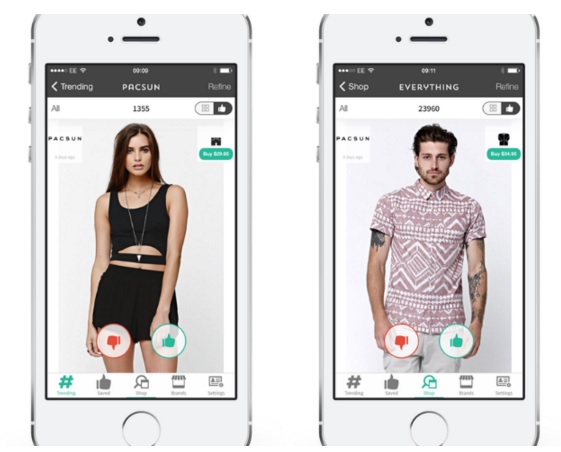 According to a survey done by Digital Marketing Agency AgilOne, more than 70% of users said that they expect personalized experiences with the brands that they interact with. The survey also states that users expected varied levels of personalization. Here's a quick chart that explains this aspect further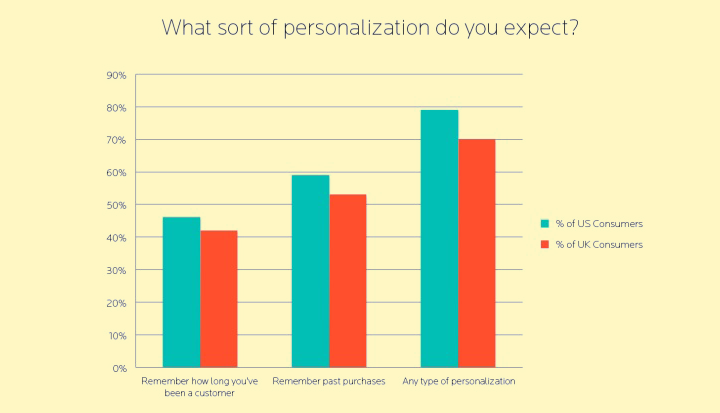 Even though the findings of this survey are meant for online behavior study, one cannot look away from the fact that a large number of such users may also be hooked to your brand via an app and thus expect the same experience on a mobile app as well. With a rise in a user's expectation from an app, it isn't too long that a user ditches your platform for a more evolved and personalized experience.
3) Personalized Post Event Interactions
A sale on a retail app is successful only when marketers get pushy, however without compromising the shopping experience. A great way doing it is by wrapping the communication in subtle and light-hearted packaging.
Push notifications, In-app messages and follow up emails are tried and tested ways of reaching out to customers and ensuring a sale. But basic doesn't cut it anymore. App marketers have to constantly evolve and offer something more to users that abandoned the cart!  And what better way than infusing an element of personalization in follow-up interactions as well.
Here's an example of a personalized and targeted push notification series.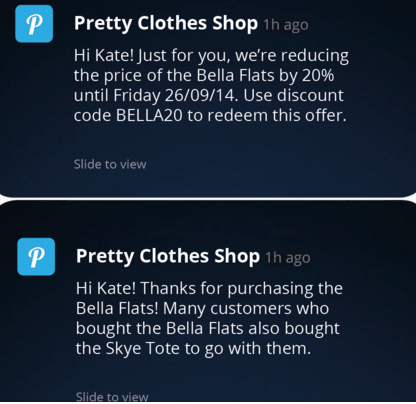 Isn't it refreshing?
Another way in which retailers are testing personalization is by using specific location based technology  in order to personalize interactions with users. For example, the Starbucks app sends push notifications to users when they are in a vicinity of a Starbucks barista.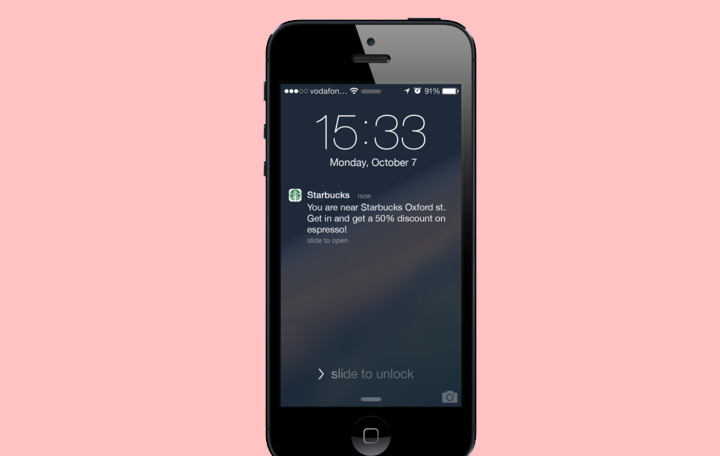 4) Personalized In-App Features
When a user is exploring your app for the first time, he is scrolling the catalogs, browsing through various channels-quite frankly this can overwhelm him. While personalized onboarding can help in soothing his nerves, personalized In-app features can enhance his interactions with the app, adding to an app's stickiness.
In-app chat function can help users take fast decision while shopping since they can connect with their friends and family for an opinion instantly. Usually, this is a time -consuming task, but In-app chat feature can drastically cut down this time, thereby getting the user closer to the checkout page. The Flipkart ping is one such app. Here's a look at how this feature can help users
Yet another feature that can help app developers in sustained growth is via personalized in-app referrals. Not only do these programs instigate users for more purchase, they also ensure that the users keep coming back for more.
Apps like Airbnb have successfully integrated this feature with their app. Here's a look at Airbnb's personalized In-app referrals.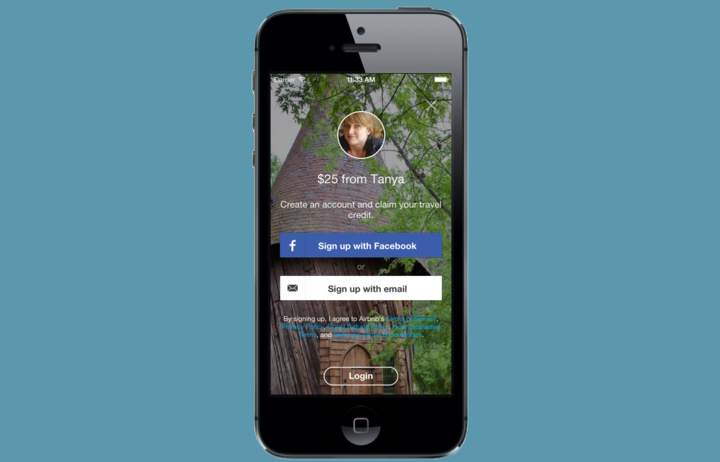 Given the incentives and personalization associated with In-app referrals, they are sure to keep your app users enticed.
The Final Thoughts
Retail apps are booming, and every now and then one gets to hear about more added to this growing list. To ensure that an app is memorable and brings good value to the table, app marketers need to invest in personalization at most levels of a user's app journey.
Which personalization metrics have you in used to boost your retail app? Do share your insights in the comment below.
Image Source: Airbnb, www.nn4m.co.uk