With the world adopting the mobile first mantra, it's legit that developers are making every attempt to highlight their apps. Interestingly, this has pushed growth hacking strategies to the forefront. We've come across a lot of case studies that discuss one or few growth hacks used by SaaS products, but mobile specific growth hacks are usually sidelined.
The mobile app stratosphere has numerous opportunities to make the app scale well, but the idea is to seamlessly weave it as a part of the app, rather than annoy the user with excessive prompts (of any kind). One such example is the overuse of push notifications to get traction. According to us, it is a great way to promote an app but not a convincing growth hack.
As crusaders in the arena, we've listed a few mobile specific growth hacks that can make your app shine.While a few of these hacks are specific (to the app's features) many of them can be customized for your app to grow.
 Giving Users A Feature To Linger On
Let's accept the fact that the longevity of an app is limited, and developers try really hard to extend it as far as possible. Giving users a feature to linger on is one of the easiest growth hacks possible, but it makes sense only when it is a product fit. Timehop is one such app that is solely based on this feature.It pulls out old data (memories which are year or more older) from Facebook, Twitter, Foursquare, Instagram and others and displays it afresh  for the user, thereby hooking them for a prolonged period of time. Owing to this feature the app has gained popularity, thereby improving its app store rankings and bringing in new users alike.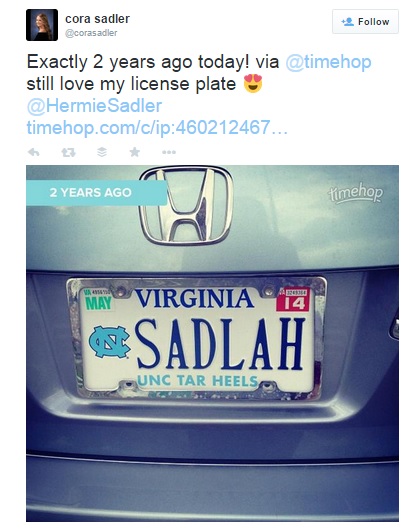 Of course, this is the core feature of the product (read app)  but there are ways in which this growth hack can be integrated. Here an example of using this tactic >
E-commerce apps can send a unique prompt to the users through the app, at the end of the year and push them for more sales! This will ensure stickiness of the app and also boost revenue for the app.
Seamless Integration Hack
A lot of apps lose their luster in the absence of a seamless platform. However,  a few outperform in comparison. Apart from being a popular social media platform, Instagram offers its users a seamless integration with other social media platform. One can directly export one's Facebook friend list and start following them, apart from other 'following' options that are available to the user.This also means they can always invite more users, and the app can constantly grow!
Providing a seamless integration helps developers in two ways. Firstly the process is uncomplicated and hence very easy for users to implement. Secondly, it is an ongoing process and not a hack that has a low shelf life.
Collaboration Hack
Ever heard of the adage, two's company? We are sure you did. Now imagine a collaboration with an app that belong to our niche but isn't your competitor! Uber, the world leader in cab hailing segment, has tied up with Zomato a restaurant discovery platform, globally.
What does it mean for the apps in question? Simply put it is a symbiotic relationship that helps users to leverage the benefits of both the apps simultaneously. In the said example, Zomato users can see estimated pick up time, fare and travel time to the restaurant of their choice within the app, without having to re-enter the Uber app.
The said feature is available in 27 cities and 13 countries making it an extremely viable option for users. For app developers it means sustained growth.
Mobile App Only Feature
What differentiates your web app from a mobile app or the offline service that you offer? Are there any features in your mobile app that elevate user experience in a way that resonates actual buying experience for your user?
The Starbucks App is a prolific example here. Not only is one of the leading app in its category it has got its user hooked. Here are a few 'out-of-the-box' features that Starbucks offers to its user via its iOS app.
Ability to pay tips through virtual tip-jar and shake to pay.

Ability to enjoy the complete coffee shop experience even when ordering from the app. Apart from menu selection and payment options, the app also lets users to  get free songs and access to other apps on a weekly basis.

The app is also integrated with the latest technology (read Apple watch)
Word-Of-Mouth Hack
Word of mouth offers one of the best techniques to grow your app. Here are a few stats that will act as a re-iteration for developers that aren't utilising this tactic yet.
Customers obtained from referral marketing are both more loyal and more valuable– Harvard Business Review.
Although referral marketing or word-of-mouth marketing has been in business for long, the advent of apps and In-app referral has bought the techniques back to the center stage. Most well- established apps (and many newer ones) owe their success to this strategy.
AppVirality offers a unique referral solution to developers and supports In-app referrals at each step. This includes setting up campaigns (without coding), campaign customization, DIY dashboard and 360- degree analytics around these In-app referrals.
Personalization
When it comes to a mobile apps, personalisation becomes a key motivator to user experience. Jet Blue App offers a truly personalised experience to its users by successfully integrating it with their loyalty program. Another great example here is the Tumblr mobile app, which offers a wide selection of personalization options like colours, fonts and the choice of a header image, making the whole experience worthwhile for the user.
There are various ways of integrating the element of personalisation in the app. Personalisation can also be twinned with the above-mentioned hack of referral marketing. Here's a first hand account of In-app referrals being tested by a growth hacker.
By using these simple hacks, you can make your app shine too! Which hack do you feel is a great fit for your app? Do you think you know any interesting techniques that we've missed out? Do drop in your comments below.