A steady content marketing strategy paves the way for a sustainable growth structure by educating and inspiring your audience at the brand awareness stage and then guiding them through every step of the customer lifecycle.
Content is at the core of every inbound and outbound campaign, let it be email marketing, lead generation, or customer retention. Especially for e-commerce websites, the sales cycle varies from person to person, as some may buy from you at the very first interaction, while the others will take their time, evaluate your products, do their own research before making the first transaction. Content makes the purchase decision easier by encouraging them to take the next step.
82% of consumers feel more positive about a company after reading custom content. (Source)
Through custom content, you get the opportunity to earn credibility and open up channels for your target audience to engage with you and build a mutually profitable relationship. In the marketing funnel, you can position your content at relevant touch points to enlighten and encourage your prospects to convert them into high-CLV customers.
The top-of-funnel content strategy is a great way to attract and nurture new visitors who are still in the 'awareness' phase. With highly-targeted content, you can warm them up and move them towards the sales pipeline. The primary goal of the awareness stage is to make the visitors aware of your offering. Thus, the best way forward is to reach out to them with user-oriented content that educates them about the pain points and informs them how your product or sevices will cater to those needs.
This is not a conversion stage, so don't focus on metrics that define direct sales. Instead, tell them why you're selling what you sell and how it will solve their problems. They may not end up being your paying customer but will help you reach more like-minded people via organic engagement, or if they have an influencer status, can persuade others to consider your offerings.
Who are you creating content for?
Before writing even a single piece of content, analyze your audience, understand their needs, desires, interests, behavior, opinions, lifestyle, habits, and preferences. The best way to do that is to create multiple buyer personas that sum up your target group. This will help you plan your brand positioning, content creation and distribution strategy based on their consumption habit, and develop product pricing.
Talk to your audience, understand their pain points, gather relevant data to fill out the buyer profile and buyer insight. While buyer profile deals with demographic and psychographic data, buyer insight deals with buyer's motivation, expectations, goals, and desires that make them take notice of your products and make purchasing decisions.
Take note of their demographic information, socio-economic background, life and business goals, issues they are dealing with, research habits, buying concerns, product evaluation process, key purchase drivers, role in the purchase process, etc and create a simple buyer persona as the one demonstrated below –
Develop your personas over time to add complex data and insights that'll help you strike a chord with your audience.
Now that you have an idea of who your audience is, find out what they are searching for. The easiest way to do this is via Google search. Type in your product keywords and wait for the autocomplete feature to come up with related questions. You can even check out the related searches section at the bottom of the search results. Take a deep-dive to find out all the relevant keywords through tools such as Keyword Explorer, Ubersuggest, Search Console, BuzzSumo, Moz, etc. These tools will not only help you populate your keyword list but will also suggest related popular queries.
Answer The Public is an extremely useful tool that provides you with a myriad of questions and possible search queries that you can use to create relevant content. In this example, I've searched for 'sports shoes', a pretty basic keyword and the tool has returned with a vast array of short and long-tailed keywords like these.
Top-of-funnel content for your target audience
By this time you know what kind of content your audience consumes and their preferred channels. Use this insight to create your content calendar. This will help you plan and visualize all of your content marketing tasks for a certain time period. For the top-of-funnel content strategy, you have to plan your content keeping in mind that the primary purpose is to make the audience aware of your offerings.
Take a time period you're most comfortable with – if you have limited resources, you can start with a 1-month plan and then develop it as your business grows.

List out the topics that you want to cover in this 1 month and choose the content format – long/short-form blog post, infographics, how-to guide, checklist, social media post, video, listicle, webinar, podcast, training course, quiz, report. If your resources allow, you can also offer free tools, templates, themes, or ebooks to your audience.
For example, if you're selling sports shoes, you can create a quiz to find out what type of shoes will be suitable for specific individual usage pattern and give it away for free. Or, if you're in the food business, you can design a free online cookbook diary for your audience. The possibilities are endless, you just have to find the right content to offer them when they need it the most.
Plan your creation process – the time and resources required to create all the content listed down in the calendar and decide on the optimal time to publish the pieces. Think of ways to get people to engage with the content, and as a result, with your brand. For instance, how you can push people to subscribe to your YouTube channel.
Give equal importance to the distribution and promotion strategy to ensure maximum visibility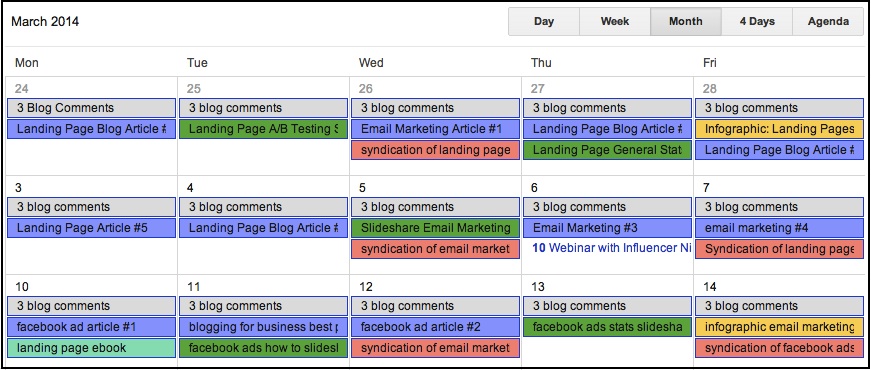 This content calendar by Post Planner will give you an idea of how to spread out your content and reuse those to boost engagement.
Create unique content that puts forward your value proposition but in a digestible format. 
Tell your brand's story, educate your audience by providing them with lesser-known tips and best practices that correlate with your products.
For example, if you are selling potted plants, seeds, or gardening equipment, create nifty DIY videos showing how people can use basic tools to create beautiful pots or transform a shed into a thriving garden at little or no cost.
If you have an online grocery service, you can have a separate section on your website where people can view new recipes, healthy eating guides, diet plans, etc. The challenge is to connect the dots for them – inspire them by showing how they can use your products to make their life better.
However, offering up a helpful piece of content and not tying it back to your overall content marketing strategy will not give you the desired results.
Taking the above examples forward, if you create a DIY video and upload it on, let's say, Instagram, the video should lead the audience back to the landing page where the products shown in the video are displayed, or to your blog where the readers can get detailed instructions. Offer them the option of subscribing to your newsletters where you can share interesting articles or downloadable visual guides.
Grabbing more eyeballs with paid ads
You should consider paid ads in the awareness stage with your goal set to brand awareness. Laser target the audience group that fits your buyer persona and test with different forms of content to get an idea of their consumption habits and online behavior.
Don't aim for hard sell from the get-go as your buyers barely know you at this point in time. Instead, illustrate how people can use your product, delight them by introducing something new and exciting for them to engage with the ads. The whole purpose of the exercise should be to collect enough data about potential prospects to prepare them for the next stage (consideration).
While writing content for the ads, ensure that they are free of jargons and that promises you make are fulfilled in the landing pages. For instance, you can create separate landing pages for different Google Ads campaigns. The ad copies should lead people to specific landing pages where they can get the information that led them to click on the ad.
The CTA shouldn't push people to sign up to buy your products. Instead, invite them to join the community, try the products for free, or learn more about that specific piece of information.
Similarly, the retargeting ads should provide more value to the users to get them to visit your site more frequently. Instead of following them around online with the product(s) they showed interest in "that one time", offer them something helpful that'll make your brand more memorable for your audience.
Paid ads help you streamline your content marketing efforts by reaching out to the right set of audience at the right time. Relying on organic engagement takes a lot of time and effort, and on top of that, you won't even know if the content reached the people it was intended for. Paid campaigns provide you with detailed and insightful data that will help you drive future actions.
The second page of search results? Umm…what is that?
Optimizing your website and landing page content for SEO is crucial for organic search. Your target audience should be able to find you organically and a good rank creates quite an impression. Paid ads might catch their attention, but they'll be unwilling to place their trust upon your company just by viewing a few retargeting ads. People are relying on search engines for fast solutions, and your name popping up on the first page will help boost your credibility and can get you a huge chunk of the traffic share. According to a study by Optify, 60% of the clicks go to the top three sites listed on the first search results page.
Due to frequent Google algorithm changes, it is becoming increasingly difficult to proceed with a foolproof plan to make your website rank for desired keywords. It's a continuous process, and you need to get your on-page optimization done periodically to get to the top three.
Review and update your keywords to get an understanding of what your potential customers are searching for and how you can provide a solution. List down all possible combinations of relevant keywords, both short and long-tailed and filter those by popularity and buying intent. Spy on your competitors to find out which keywords they are ranking for and exactly how they are doing it. Check out the keyword density, the placements and try to come up with your own strategy to use your most important keywords on your web pages.
Create compelling website content that speaks directly to your audience, but lace it with strategically-placed keywords that make perfect sense. Do the same thing for your landing pages, but test the content regularly to analyze the performance of your copy variations.
Include your most important keyword(s) in your page title, page headings (H1 tags) and meta description. Ensure that you use the best possible combination of keywords to mimic the user search query.
Check if all of your pages have >500 words worth of content. If it doesn't you should consider removing the pages or adding more relevant content to it to avoid being labeled 'l

ow-value

' by Google search engine.

Write detailed, keyword-laden product descriptions. It'll not only help your buyers find your products faster, but also 88% of shoppers characterize detailed product content as being extremely important to their purchasing decisions.
Top-of-funnel content is crucial for your e-commerce business because your visitors are at a delicate stage where they are just learning about your brand. They need guidance and encouragement to engage with you and trust you enough to complete their first transaction. It's the perfect time to make a memorable first impression and build a real connection with your potential customers. At this stage, they are just looking for information, and you can surprise and delight them by addressing their queries in a format that'll stick with them.