While researching this topic, I came across a very interesting study that was published in the Journal Of Applied Social Psychology. The study was very aptly titled 'Sweetening The Till: The Use Of Candy To Increase Restaurant Tipping'. The idea was to see the impact of mints being offered to diners and how it affects the percentage of tips. Each study group was offered mints however they were accompanied by different or no messages from the waiter's end. For example- "Would anyone like some mints before they leave?".
The results of this study showed that the tips increased by 21% when the waiters brought two sets of mints for their diners, one along with the cheque and another set after a while, while inquiring if they wanted more. What's striking is the message that accompanied these mints, which was "I've bought more mints, just in case someone wanted more!".
Incidentally, I have often observed that I get a better service (in a restaurant), whenever I address the waiter/waitress by their first name.
Without a doubt, there's a straight line that connects these dots, and it is indeed the power of personalization.
Exploring The Power Of Personalization
Personalization is a very powerful tool and has been cited by many industry experts as the next big thing.
While 'one shoe doesn't fit all' is a known fact amongst the marketing fraternity, little attention is given to it while running referral campaigns. According to studies, only 6% of marketers plan a campaign with personalization in mind. That's essentially a sad execution, considering that over 88% of marketers believe that personalization impacts both ROI and engagement!
Why Personalize Mobile App Referral Campaigns
Before we dive deeper let's look at this vital statistics-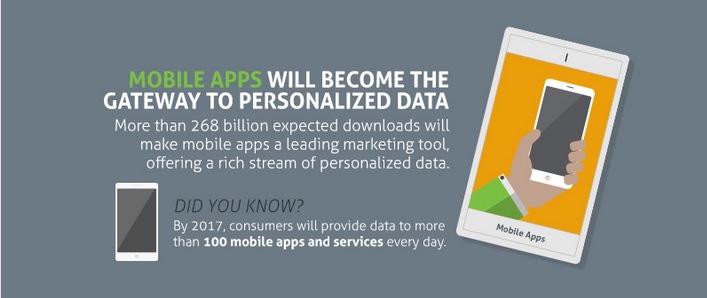 This substantiates one thing. App developers are sitting on an enormous pile of user data, yet aren't doing much about it. This is clearly a lost opportunity when it comes to striking a chord with the app user.
How To Personalize An App Referral Program
Just like any other marketing strategy, a referral marketing campaign goes through many phases, and when it comes to mobile apps, it can be personalized at both internal and external level. A personalized referral marketing campaign for a mobile app will have double the impact than a one sans it.
External Personalization:
Any opportunity that lets you personalize an app referral program, outside the app, can be labelled as external personalization.
Personalizing User On-Boarding Through Emails
Have you read about Ogilvy & Mather's personalized induction kit that created much hype in the advertising circles last year? If you haven't, you may want to view it here. The point I'm trying to make here is the level of detail and personalization that has gone into making it a success. Incidentally, your app users also expect a similar treatment.
But then there's an art of doing it right. It is thus crucial to follow these guidelines:
Establish a contact with the user within first 48 hrs– Most app developers do not understand the real value of the first contact. The first contact for an app user has to be more than a confirmation or a welcome e-mail. It has to be a blend of both. A personalized e-mail (based on the sign-up data) will simplify the process of grabbing a user's attention. Do not make the mistake of introducing your app referral program with this e-mail. Let the user experience the app and accordingly move to the next step.
Introduce an app referral program to a user after they have spent sufficient time with the app– this can be unique to an app. For example, an e-commerce app can introduce users to its referral program when they have made two successful transactions. Decide a benchmark that suits your app type.
Personalize the from field– the process of personalization should not end at the 'user name' field. In fact, the 'from' field is equally important here. Make the whole process human for your users. Here's a great example>
Use an engaging content while introducing an app referral program– the heart and soul of a good e-mail depends on the way it is composed. This includes both the headline and the body of the email. Considering that it is a referral program, the content should be exciting enough for the users to participate in it.
Introduce an engaging image– A excellent image increases the chances of your email being read till the last word!
Place a CTA button within the email- A CTA button within the email increases the chances that your app user will move to the next logical step, which is the app referral tab within the app.
Keep the information flow moving– Once an app user has referred others, sent him a detailed e-mail that includes a thank you, details of the incentives and customer support details. This way app developers can ensure a sustained and loyal relationship with their users.
Personalizing Web Landing Pages
A lot of apps aren't exclusive in nature, i.e., they offer both web and mobile app experience to its user. This means that a user may have first stumbled upon your website (from a certain source) and then downloaded an app. This is especially true in the case of SaaS products. Personalizing these external checkpoints can significantly affect the way a customer treats your mobile app referral program. For example, I find a lot of  apps that I use through Product Hunt. I hit on the app link on Product Hunt, reach the app's website and then download the app. A few developers miss creating a personalized experience here, but those who do win hearts! It is also a great way of redirecting users to your app referral program.
In the below-mentioned example, the call to action button can be replaced by "Participate In Our App Referral Program And Win An extra Month for FREE."

Personalizing SMS and Push Notifications
Promoting an app referral program once a user has signed up, isn't very difficult. But adding a dash of personalization can change the way app users look at it. This strategy can be used while introducing app users to an app referral program via Push notifications and SMS.
Internal Personalization
Any opportunity that lets you personalize an app referral program, within the app can be labelled as external personalization. Numerous apps today use In-app referrals to boost app downloads, but miss out on personalization.
Airbnb-one of the finest app growth story of our times has also used personalization to boost their referral program. But many aren't aware that referral marketing wasn't a tactic that they used from the very start. In fact, it was an underperforming and underutilized as stated in their company blog. But once they realized its importance and the right way of doing it, they were able to increase signups and bookings by over 300%!
Airbnb used two ways to achieve this. Firstly they introduced personalized referral codes to its users. The existent user could personalize their referral code as opposed to a random alphanumeric code. Once the recipients see a known name in a referral code, they feel more connected to the entire plan, thereby increasing sign-ups and app downloads.
The folks at Airbnb then followed it up with a special referrals landing page. Users who were in the midst of downloading an app via the personalized link were greeted by a familiar face that further boosted the success of the app referral program.
Nailing Personalization With AppVirality
AppVirality helps app developers in extending a similar experience to its users, with a plug and play approach. Apart from providing a great user experience it also provides detailed insights on the analytics. This way an app developer can run such campaigns with more precision.
 With Appvirality analytics, a user can evaluate the measurable metrics such as invites, installs, clicks, and the revenue generated out of app referral campaigns.
5 Tips To Boost A Referral Campaign With Personalization
Know your app user well– especially the ones that may refer your app. This can be done by understanding their buyer persona.

Maintain constant touch with your app user– Do not abandon your users once they have participated in your referral programs. A personalized email strategy, as discussed above can be used to send them reminder emails and further nudge participation.

Differentiate your incentive offering– do not keep the incentive offering same for all your app users. It is always advisable to customize your incentive, which makes it more personal for a user. An influencer (the user who recommended the most) surely deserves a better incentive!

Do not comprise on personalization during the time of crisis– an app referral campaign may face certain roadblocks, sometimes. This situation may lead to a little whining. The way your team handles this situation is going to influence the way prospective app users see your app referral program. It is best to put a name while sending out a sorry email or tweet as opposed to automated message. A name with an apology means a more personal interaction with your users.

Promote referrals at strategic moments. Top it up with personalization!-At AppVirality, we have always suggested app developers to promote referrals at strategic moments. But maintaining personalization at such levels is like a cherry on the cake! App users wouldn't mind spending an extra minute to refer your app if you catch them happy.
The Final Verdict
Referral marketing is based on trust and when it is blended with personalization it changes the way people look at your app referral program. It assures the user of an authentic contact that they base their decision on.
Is your app referral program powered by personalization? Would want AppVirality to help you?