The world of dating may seem a little overwhelming. Wouldn't it be nice to cut through the long chases and conventional norms to meet someone? Can it not be technology driven?
Five years ago, this was unheard. Along came, Tinder and drastically changed the way people viewed dating. To some, this may seem frivolous, but for a wide segment of human population dating via apps has become the norm of the day.
It isn't surprising that while a few dating apps like Tinder, Bumble and Coffee Meets Bagel are a hit, others have not been able to get a similar adulation from users.
Quite clearly it is more than just an interface that's the deciding factor in such scenarios. The growth strategy of dating apps is an interesting topic for app marketers. Given that we love to explore trends in the app marketing ecosystem, we decided to decode the same for our readers.
But before we proceed any further let's understand why mobile dating falls in the growth category. In the second half of the article, we will be evaluating the growth hacks that worked in their favor and how such hacks can be applied to other app categories as well.
Why Does 

Mobile

Dating Fall In Growth Category?

At the same time, it is showing exciting growth. The users today are spoilt for choices, and the segment is witnessing innovation at each and every step. According to a (dated) report by Flurry, users prefer dating apps v/s dating websites. The Flurry's report also states that

"We also found that the number of people using dating apps is growing faster than the number using all apps. In short, dating is a growth category. Overall, the number of unique users of all applications increased 125%, year-over-year, while the number of unique users using mobile dating apps increased by 150% over the same period. Comparing Internet dating to mobile app dating directly, unique users in mobile dating apps now account for about one-third compared to the number of Internet dating users, which has doubled over the last year."

The statistics associated with engagement on dating apps is also astonishing when compared to app competitors in the social media space. Social media is a popular segment and enjoys every user's mobile real estate. According to Huffington Post, an average user spends around 21 minutes on Instagram as compared to 77 minutes on Tinder. This statistics changes the way marketers look at dating apps.

Increased statistics favoring this segment and the surge of newer dating apps each day make them a part of a community that flaunts growth.
All The Same-Yet So Different
The experience of using dating apps ranges from exciting to gory. Most app marketers thus aim at improving user experience, which in a way has also become the starting point as well as a key differentiator for them.
However, the competition in this space is extremely stiff, which pushes these apps to growth hack their way in achieving success and garner favorable installs. It isn't surprising that the growth hacks adopted by dating apps are as unique as the concept itself.
Amongst the plethora of growth strategies adopted by these apps, a few have stood out. It clearly feels that these growth hacks can be implemented by other app categories as well.
Here's a look at the growth hacks that separated the more popular dating apps from their competitors.
Growth Hack #1 -Ease Of Decision Making
Picking someone from the numerous options may be overwhelming at the same time. That's where ease of decision making comes into the picture. Even though a lot of users may prefer other dating apps over Tinder, most of them at least enjoy the simplicity of the 'swipe right and swipe left' platform.  
Sean Rad- the co-founder of Tinder, spoke about this feature on Re/Code. He said
" The beauty of the swipe is navigating through the content is done with the minimum amount of motion."  He further added that "In general, on a browser or on a phone, you scroll and stop, and then have to go up or down to position and digest the content.With swipes on Tinder, the act of navigating through content is merged with inputting an action on that content."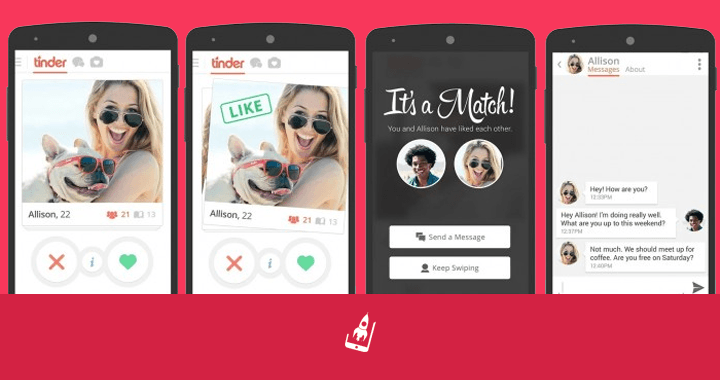 Swipe strategy encourages users to take quick actions thereby fueling sustained interactions on the app. According to sources, Tinder records 800 million swipes per day. Chris Calmeyn of Caliber- a professional social networking firm looks at the right swipe as a great way to process information quickly. He goes on to say that " I really see the Tinder swipe as a UI pattern, more than anything else."
Even with biased viewpoints on the feature, it has been lapped up by app developers in full force. From E-commerce apps to professional networking apps, the left-right swipe feature ensures ease of decision making and is a trend that isn't dying soon.
Growth Hack #2 Constant Innovation In Approach
Given the knee-jerking competition in this space, app marketers need to constantly reinvent and innovate the way in which users engage with their dating app. The growth hack leveraged by the Bumble app dealt with an integral element of dating psychology, which addressed the who approached whom syndrome. For most dating apps this decision is open to both parties. A large number of women who've used Tinder have often voiced their opinion on way they have been treated on this app. Given that dating in virtual space may mean different things to different people, Bumble used this as a base to reinvent a product, however with a different approach and niche.
Known for its women's first approach, Bumble has become the first choice for many women today. Even though Bumble offers a similar interface as that of Tinder (right-left swipe), its innovation can be seen in its approach of handling the core problem of its female users. While the Bumble app growth hacked via a women's first approach, it did not take away from the flexibility and ease expected out of an app.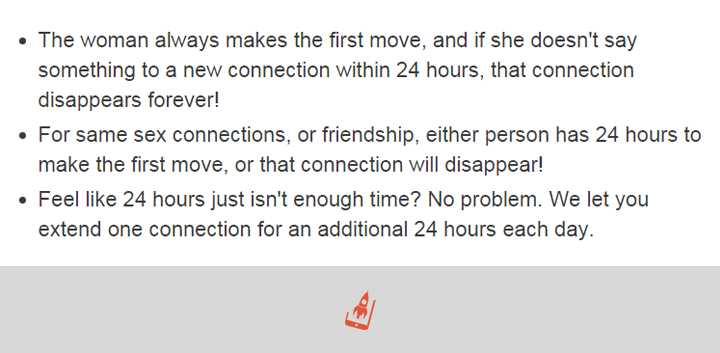 Till December 2015, the Bumble app had witnessed over 65% month on month growth along with 80 million matches made by its user.  
This aspect of an app business is true for app marketers irrespective of the category.
Growth Hack #3 In-App Feature

Updation

Dating app market is over-crowded and complex. In a space like this, In-app features play a key role, since they improve the stickiness of the app. Most app developers address In-app features in two unique ways namely:
Making it a core element of the app

Improvising In-app features on the go
Coffee Meets Bagel's In-app feature has now become its identity. This dating app delivers a bagel (match) each day to its users at noon, and the users can either like it or pass it.  Delivering a bagel at NOON is a well thought of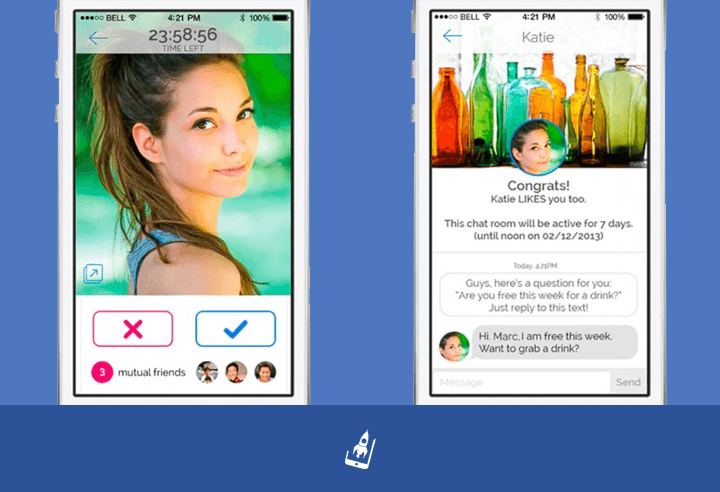 Delivering a bagel at NOON is a well thought of strategy for this app. According to its website
 "We wanted to create something for you to look forward to every day, something that adds excitement to spice up your lunch break."
While the above feature falls in the purview of a core offering, sometimes this may not be enough. Players like Tinder, who have been in the market for a while, understand user expectations better, thanks to all the data at their disposal. A quick look at the Tinder blog showcase constant update and In-app feature development.
Since its launch in 2012, Tinder has added a variety of features such as smart profiles, improved messaging interface, GIFs, and Emoji support, super like swipe and many others to keep their app users engaged.  
A key takeaway for app marketers here is to constantly aim at improving user experience for their users by elevating their product features.
Growth Hack #4 Word Of Mouth
We are firm crusaders of word-of-mouth marketing. Given the trust associated with this marketing tactic it is bound to influence users in a positive way. For a segment as personal as dating, word-of-mouth has ensured reach, likability, and faith- the key parameters behind the success of any dating app.
Justin Mateen- Co-founder of Tinder said in an interview
"We aimed to reach the social influencers that were looked up to within their peer groups and once they had a positive experience with the product, the organic word of mouth kicked in and Tinder trickled down to all their friends, and friends of their friends."
Apps like Coffee Meets Bagel have also twined the concept of word-of-mouth in their product offering albeit in a different way. Coffee Meets Bagel offers a 'mutual friend vetting' feature via Facebook, which works as an extension of word-of-mouth.
The Final Verdict
Dating apps have revolutionized the way individuals meet today. Just like other apps, dating apps are trying to ease the pain out of a user's busy schedule and fast-paced lifestyle. The above mentioned growth hacks have ensured sound growth for apps in the dating category, however word-of-mouth remains a hack that can be easily customized for all app categories.
What other hacks do you think propelled the growth of the above-mentioned dating apps? Do share your feedback in the comments below!
Image Sources: Buzzfeed| The Next Digit| ABC News