The start-up fraternity is always abuzz with questions on hiring, and that's because it isn't an easy task. It is a well-proven fact that growth-centric startups are backed by teams that are fast-paced,  adaptable and have a firm subject matter expertise.
Even after cherry picking the right talent (the ones with idealistic values as mentioned above), the attrition rate is usually high, and most co-founders are clueless about the real reason behind someone leaving their 'oh, so awesome startup'!  
What could be wrong? While there may be numerous takes, it's hard to pin-point one. That's when we decided to deep dive into the idiosyncrasies of the hiring gamble, given that it has been a challenge for us as well. While doing so, we were blessed to be exposed to gems of advice from Seth Godin-the Marketing guru and the bestselling author.  
This article is aimed at two things, namely:
To help founders in re-thinking their hiring strategy

To help them evaluate hiring through the eyes of a future hire
We believe that a thorough understanding of the above-mentioned points can help founders in taking a prudent decision and keep their best talent intact!
So let's rock and roll
Seth's Sermon On Hiring- 3 Tips To Ponder
#1- Understanding The Difference Between Hiring & Recruiting
As a founder, can you differentiate between the terminology? Don't worry; we weren't able to do it either. Seth has an answer for both you and me. In an article on his blog he says: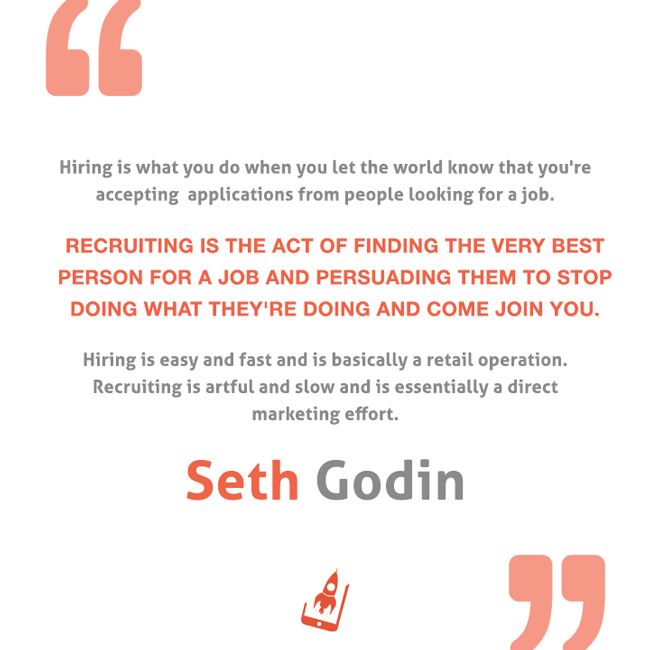 THAT IS SOUND ADVICE, isn't it? After reading and re-reading the statement numerous times, I've realized that most startup founders practice the recruitment ideology at an early stage and quite evidently the focus shifts to hiring ideology as the startup grows.
Let me explain this with an example. At the very start, founders look forward to picking up the best talent for their startup. They are patient and ready to wait till the time they find someone who has the same spark for their product as them. However, once the core team is in place and the team starts to grow one can witness the change in scenery. It isn't surprising that the new lot of 'hires' would want to leave the company for the next big opportunity, as soon as they find one.
Companies like Buffer have set-up a benchmark in terms of following the 'recruitment ideology' and have been following it for a long time now. In my opinion, planning and investing into company culture and building a community is what will make people interested in working for your start-up
#2 Have Trust in Your Employees
One of the most critical advice by Seth for startup founders is to be able to trust their employees. He says: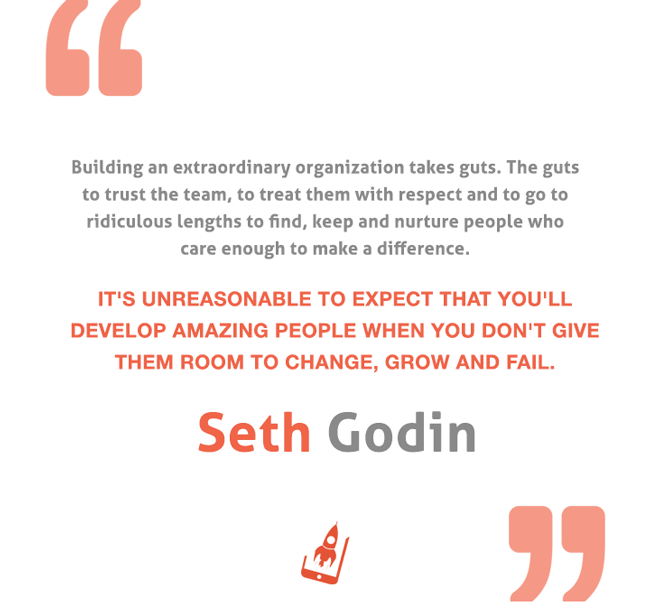 While a recruiting approach may help you find the ideal match, it is equally significant to trust your employee.
#3 Tame The Lion
A job at a startup means taking responsibilities, working outside the comfort zone and putting theory into 'real' practice. Clearly most of it cannot be ascertained by a mere interview. Despite knowing it, most founders shy away from practical hiring and still value the 'resume' route.

According to Seth, taming the lion and putting him in a real situation will help both the founder and the prospective hire since it will help them in understanding the job role even before they've been fully inducted in the team.
This strategy will also help in reducing attrition to a large extent. He says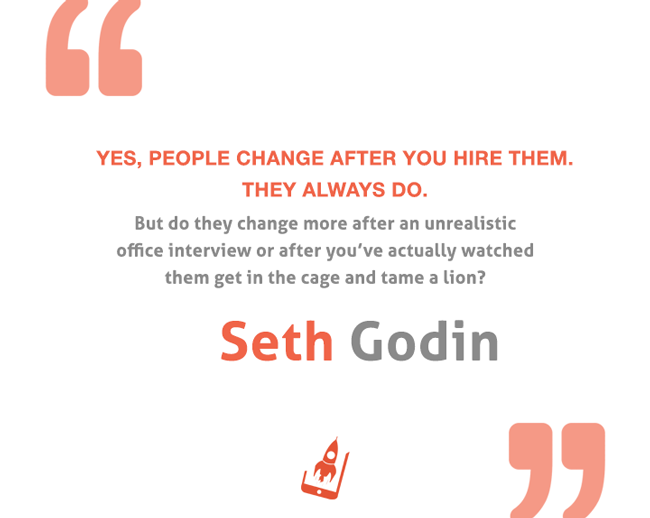 What's Cooking In The Mind Of Your Next Hire?
While it is great to devise a hiring strategy based on the nuggets suggested by Seth, it is equally advisable to think like a prospective hire, to be able to create a win-win situation on both ends. That's the reason we reached out to the community and asked them the big question in order to understand their viewpoint and their expectations with a job at a startup.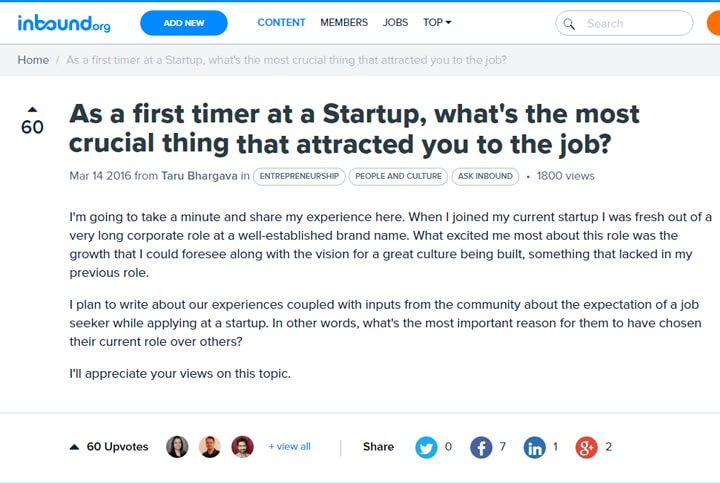 The feedback we received was overwhelming, crisp and pointed towards a few factors that employee look at while applying at a start-up. Here's a TL;DR approach that built on the thread above.
#1 A Challenging And Open Environment
A challenging environment that helps an employee grow and experiment with the profile was a key motivator for most people. Founders should know that a challenging environment where employees have the ability to test their strategies and output is far more attractive than a job that limits people to take a dive.
The sign of a good startup is the one which values the feedback of its employees and continually encourages them to take a lead.
 #2 Focus On Growth, Driven By Company Culture
You'll be surprised at the number of applicants that value culture and apply at your startup either acutely aware of it or seeking one.  Joe Sturgess- Marketing Executive at Swift Social said that
"I have seen the company culture grow and develop into its own organic form, not just copy and pasted from other cultures. There is nothing more exciting than working in the startup environment, it is equal parts fun as it is challenging, but that's what excites me for work every day."
A lot of what Joe states depends on the ease of communication and how your employees feel about the company. Founders should prioritize this bit by hosting impromptu sessions, and involve their employees in open discussion that reflect the true spirit of the culture.
A satisfied team will always be on top of their growth numbers especially since a quality work environment also means a quality output.
#3 Value Real Output Than College Degree
A college degree cannot be a benchmark for excellence and the same echoes in Sujan Deswal's comments on our thread. Sujan who is an Inbound Marketer at AdPushup stated that
" The ability to be judged based on what I can prove myself to be, through hard work and self-learning rather than college degrees and prior work experience", was his reason to apply for a startup job.
Finding a perfect balance between Seth's ideology and the expectations of new age applicants may be difficult, but it isn't impossible. But once you have mastered this art there's no looking back. We would love to hear from you on hiring and how you battled attrition at your startup.
If you are someone working at one, do let us know whether we are right or wrong in the comments below!
Before we leave you here, we have news for you all.
So if you know of someone who fits the bill, please help us reach them! We'll assure them a great working environment and the company of an equally crazy team! 
Here's the link to the job description and the profile in question!
Any takers?