We live in a world that is rapidly tilting in favour of mobile, and here's a list of some startling facts that just re-iterate the fact>
 · Dated July, 2014, there were 1.3 million Android app and over 1.2 million apps on Apple's app store  and the numbers are constantly on the rise.
·  Mobile apps are digging into the share of mobile web.
If we look carefully, these stats hint at the immense powers that lie in the hands of mobile app users today. Furthermore, it also points towards the significance of mobile app analytics for developers and marketers.
For the same reasons, it's only sane to understand why mobile app analytics are important and why every app developers should factor it as part of their app marketing strategy.
5 Top Reasons To Go With Mobile App Analytics
 1)   Sets a Clear Path For A Mobile Marketing Strategy-  Different mobile apps have different levels of functionality and content that makes a customer respond. A marketer cannot pinpoint this without crude data, and hence the analytics. Furthermore, a mobile marketing plan is futile in the absence of  data-driven logic.
2) Provide Insights Into User Behaviour–  You may have developed an awesome app, but if you do not know your customer's preferences, it won't take you far. Mobile app analytics makes this process extremely simple. App developers can analyse the screens on which app users spend/come back most number of times, and thus elevate their functionality.
3) Helps Optimise Mobile Campaigns– Once an app developer has analysed the user behaviour, it becomes very easy for him/her to optimise mobile campaigns. This is important since repeat user retention is the biggest challenge for an app developer. Mobile app analytics can come in handy while analysing such factors, thereby giving boost to campaigns.
4) Increases Brand Awareness– Mobile apps, help developers in bettering brand awareness, and app analytics plays a significant role here as well. A study reveals that mobile analytic users enjoy 11.6% annual in brand awareness as opposed to organisation that do not.
5)   Gain insights into ROI– No marketing goal is worthwhile if it isn't backed by numbers. Mobile app analytics  help in putting a number in front of an app developer's goal, which makes the picture clear as far as ROI is concerned.
Though the list mentioned above isn't exhaustive, it still provides a general idea of what mobile app analytics can do for you.  
Revisiting The Mobile Marketing Funnel
If you look through a magnifying glass, each of the above- mentioned aspects are  closely linked to one or more tactics in the mobile marketing funnel. The big news is that  it has evolved over the years and has taken a slightly different route when it comes to mobile apps. For example, when a developer/marketer is trying to analyse the user behaviour (as stated in point number 2) he is necessarily trying to interpret the source of his user traffic. In a traditional marketing funnel, this strategy would be clubbed under acquisition and would follow the following cycle>
Acquisition> Activation> Retention> Referral> Revenue 
 As I mentioned before, it has adopted the  following look >
Image Source: https://www.helpshift.com/blog/
In my opinion, app developers should be able to co-relate a metric and link it back to the marketing funnel. This way they would be able to have a broader understanding of the analytics and hence will be able to tweak their app marketing strategy effectively. For example, if your data shows that there's an increase in app users from a specific source it means that though the exposure is more, your app users are finding it difficult to discover it. Roughly translated it means that the mobile app marketing strategy needs fixes to the top funnels.
But all that is incomplete in the absence of right tools.
 So, here's a comprehensive list that you can use and catapult your mobile app marketing strategy, each of which satisfies one or more challenges of the marketing funnel. We've categorised them to best suit the revised app marketing funnel.
 Exposure
The visibility of your app is dependent on a robust marketing strategy and should be such that prospect app users are aware about your app. Of course, an app developer will invest money on PR, social media promotions, feature articles on tech magazines etc. in an attempt to expose the app to its potential users and bring in organic traffic.
But this isn't enough.
Apart from the tactics mentioned above, it is advisable to include a paid route to raise awareness about your app. One such way is by spending on 'keywords'. Choosing the right keyword can directly affect the searchability of your app in play stores, in fact a case study done by MobileDevHq (now acquired by Tune) states that better keyword choices result in over 4.4x download! Using MobileDevHq can also help developers in finding what users are saying about their competition, what keywords they are targeting and what features they are launching and provide valuable recommendations in line with the same.
It's simple with a click of a button>
If you are open to a paid route in-app ads is another great way. In-app ads serve two purposes, firstly, they will expose your app to a bigger geography and secondly will also help you with monetization. Platforms like Inmobi can help you with the above-mentioned challenges along with powerful analytics to understand it all.
Recommended Read- Top 50 Mobile Ad Platforms
Discovery
Discovery coupled with consideration (discussed next) form the base of app engagement. A well engaged continues to discover more of the app features and eventually thinks of 'considering' it for a download.  Hence, it is in  an app developer's hand to engage the app users and gain from it. For example, app developers may use social media invites, e-mail or push notifications to engage with its users. The tricky bit is that mobile app users are quite picky, and since their attention span usually spans for 71 seconds, one cannot afford a missed opportunity!
 A  tool like Autosend.io is a big boon for app developers in such situations. This tool helps app developers with push notifications, SMS and emails to educate customers even if the user has deleted their app.
Another great tool that can help marketers with 'app discovery' is UrbanAirship. Apart from features like push messages, they also offer rich app pages, which help in delivering branded interactive content to your app audience.
If you need more options, Taptarget is another effective tool.
 Consideration
App marketers are well aware of the time and energy that goes in hitting the right spot with their users. Even if the user has downloaded the app, there's still a higher chance that he/she may choose to abandon the same. In a nutshell making your user to consider and download your app is a tough task.
But how does one take corrective measure in absence of any metrics like repeat visits, user session time and other such factors? Appcelerator is one such tool that helps developers with analytics that concern active sessions, user engagement and acquisition, historical views and trend analysis to name a few. The tool is also adept at supporting developers with details about app crash amongst others.
In a time when the emphasis has shifted beyond downloads, AppBoy helps marketers understand its app user's better. It provides app developers with detailed insights with their deep dive dashboard.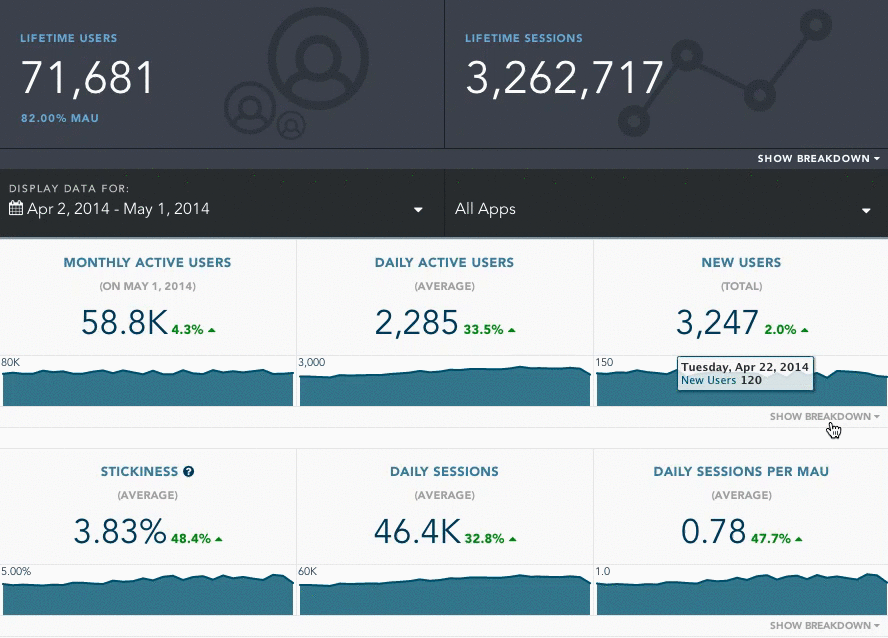 The most important part of the funnel is conversion and though a lot of you may debate that downloading an app equates conversion, in reality it doesn't. The conversion cycle get completed when  users continually choose to use the app. A brilliant user engagement ensures that users stick to your product. A few apps like Askingpoint help developers by prompting them to rate their apps, run polls and comes with a feedback widget option to keep the user engaged.
App developers/marketers who are looking at a more engaged user base may dabble into conversations that includes polls, surveys, forms, coupons etc. through a tool named Swrve.
Here's a quick video by them >
Retention
There are numerous reasons that app users choose to stick with an app. However, it would be insignificant if the happy users do not further recommend this app. Tools like AppVirality help app developers to run successful growth hacks such as in-app referrals and customer retention techniques  along with providing detailed analytics around it.
 Appboy, the tool mentioned above has very recently launched retention analysis as a part of its marketing suite.
Image Source: https://blog.appboy.com/
 With the plethora of tools that are available to app developers today,analysing significant mobile app metrics isn't difficult. Through these statistics, developers can nail the immense opportunities that lie ahead.
What tools are you using to make the most of your app analytics? Do you think that the mobile marketing funnel has evolved? If so what tools can you add to this discussion?