"Referrals was an exciting project to undertake because it embodies growth: it's highly measurable, scalable, and is all about identifying a growth pattern that's already happening but amplifying it at a key moment." – Jason Bosinoff, Director of Engineering at Airbnb. (source)
Nobody can argue with that, considering how Airbnb hit the sweet spot of viral growth with referral marketing. Yes, it's measurable, scalable, it allows for precision targeting and lets you reach out to prospects you haven't even considered before. However, it also needs constant supervision.
You have to dedicate time and effort and scrutinize your referral program regularly to make it foolproof, fraud-proof and profitable. Sporadic email blasts, loopholes in the campaign plan, misleading KPIs and slippage are some of the critical mistakes that can cost you more than you bargained for. You have to monitor the progress constantly, detect glitches and fix those on the fly.
Let me make the whole process a bit easier. Below are 12 questions you can ask yourself at any stage of your referral campaign to ensure your campaign is optimized to the T!
Ready? Let's get into optimization mode
–
1. Is your referral program easily digestible?
Simplify the whole process so that people can understand what's going on with just a single glance. You can do that by keeping the copy simple and uncluttered; check if the instructions are laid out clearly in a step-by-step manner and the reward and its conditions are highlighted (check out Toms' customer referral program landing page below). Scan for areas where people might get confused; have a chat with your support team to find out which steps need attention – if they are asking the same queries and dropping off in the middle of the journey. Mention the terms and conditions clearly; include FAQs and keep an eye out for bugs.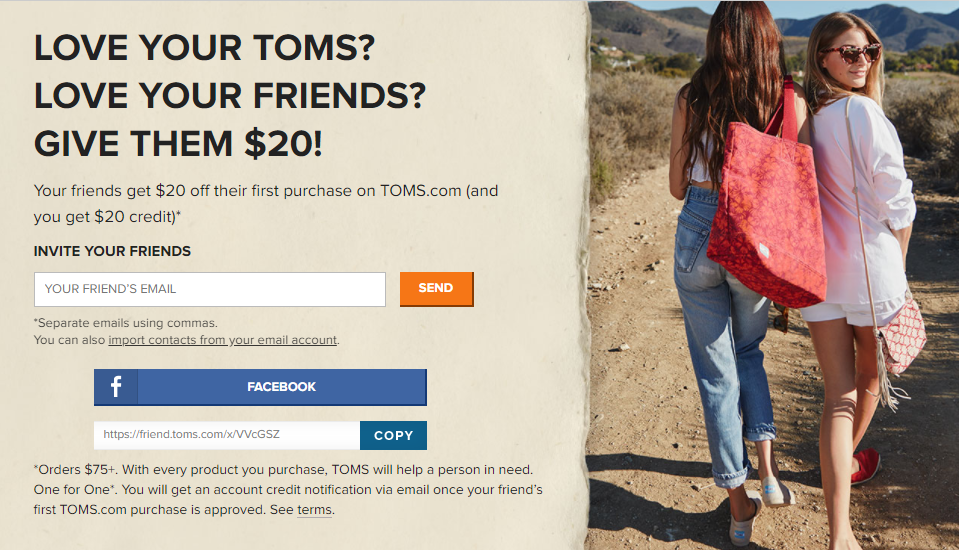 2. Are you targeting the right people?
When you launched your referral program you might have either gone for an open-to-all or a selective-participants-only approach. If you wish to target selective people to generate high-quality leads, you need to segment your customers and identify the 'right' group of people. That includes regular customers who'll be willing to recommend your brand either as a gesture of goodwill or for an attractive incentive. These particular group of generous customers are delighted with your product(s) or services and are more than willing to spread the word amplify brand awareness.
Even then, it's not guaranteed that they'll recommend quality leads. They may end up referring people by bulk, or recommend friends who aren't necessarily the best fit for your brand. There's a workaround for the B2B folks – if you notice a dearth of quality leads you can change the approach and ask direct questions to the referrer so that they don't have to rack their brains to identify the ideal prospects for you. Just tell them what you're looking for and ask them if they know someone who fits the bill.
After all, the primary intention is to find the 'perfect match' – "A customer whose wants match better with the firm's' offerings than those of another customer will expectedly

(i) buy more offerings at given prices,

(ii) have a higher willingness to pay for given offerings, and

(iii) require lower service costs (e.g., explaining how the existing offerings can be used to address his wants; adapting the basic product to his wants).

As a result, better matches expectedly result in higher contribution margins. Better matches expectedly also result in greater satisfaction and hence lower churn." (source)
3. Are you pushing for referrals at the wrong stage of customer journey?
Randomly asking for referrals at every opportunity will just give rise to an irritated bunch of people. Granted, it's not possible to know when your customers will feel like referring, but you can trigger the requests at optimal moments to encourage people to take that step. You can reach out to your happy customers after they've –
left a high NPS rating, thus establishing themselves as promoters
gave a good CSAT score
submitted an excellent review praising your products, or
gave you a shout-out on social media
Other than that, you can leave gentle reminders to stimulate top-of-mind awareness. For example, mention your referral program at the bottom of the invoice, request them after they've shared a new purchase on social media, notify them when they've completed a milestone, remind them after a successful transaction, or when they have a low wallet balance (if the app has a wallet). You can even set up scenarios on AppVirality which will automatically trigger a reminder email/notification when a customer/referred friend completes an action or is inactive for a long time.
Scenario A: If a customer (who has referred before) hasn't been referring for some time.
Scenario B: If the referred customer has downloaded the app, but hasn't signed up yet.
Scenario C: If the referred customer has signed up, but hasn't made a transaction yet.
4. Place rewards under the microscope – are those motivating enough?
Would you've referred a brand if they offered you a similar reward? Start from there. Study your buyer personas and try to find out what would motivate them to recommend your brand to their friends.
Launch seasonal referral campaigns with pertinent rewards – target the Super Bowl season, carnivals, or particular festivals. You can go for a strategic partnership with brands offering services that's related to your brand in some way. This way, you can exchange targeted traffic with each other and ultimately, drive sales. Listen to this podcast episode on referral marketing by Austin Brawner & Andrew Foxwell to gain more incredible insights on this.
Rewards are tricky. You can't just focus on how to get people referring, you have to consider how the reward structure is going to affect their relationship with the referred.
"A reward more favorable to the recommender increases the inference of the recommender's selfish motives…whereas a reward more favorable to the recipient increases the inference of the recommender's altruistic motives." (source)
If the referrer is receiving a better deal than the referred, then the latter might interpret the former's motives as being based on selfish reasons. However, if the situation is reversed, the referrer might not get the urge to promote your brand. The safest bet is to create an incentive structure that rewards both of them equally.
Analyze the patterns to find out if people are dropping off after a single referral and try to keep them engaged. Offer them brand swag, extra points or more attractive rewards. Tesla offers its referrers various services depending on the number of qualifying referrals.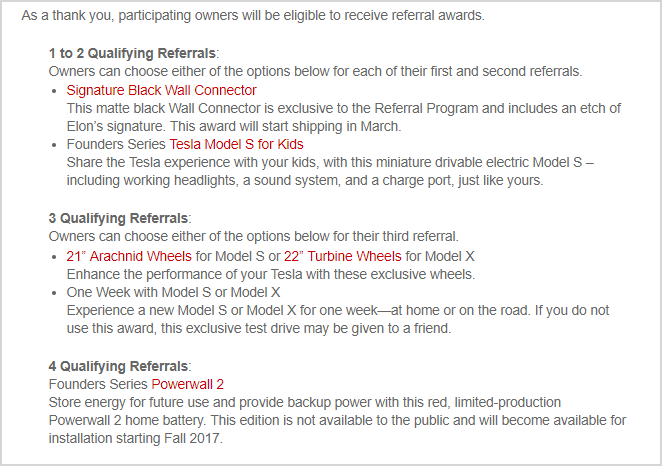 Similarly, Harry's created a reward structure where the recommender can keep on referring to receive increasingly pricey rewards.
There's also another similarity between these two instances, the referred friends have to perform some kind of action for the referrer to be eligible for the rewards. This brings us to the next question –
5.  Are the referrals benefiting your business?
If you've designed a campaign where your customers can just refer and receive a certain incentive even before the referred signs up/installs or purchases something, you may end up losing more than what you're earning. A number of people can game the system, and chances are, they will. If the above arrangement doesn't bear you results, if the average LTV is less than the combined reward being offered to referrer and friend, switch to a campaign where both the referrer and the referred perform actions that prove to be valuable for your business.
6. Is your customer referral program shareable?
You may offer the most tempting reward in the world, but people will lose interest and drop off without referring if you make the whole process too complicated. Make it effortless so that they can refer with just one click. Make pre-populated messages/emails interesting – if the message is too pushy, they wouldn't share it on their social channels; and easily shareable – they wouldn't have the time to craft personalized messages for their friends.
7. Are you focusing on wrong channels?
Take some time out to identify which channels are being used the most and work on those. After gathering the data, you may find that people prefer to email the code to their friends rather than sharing it on social media. Use that information to highlight the social channel and make it easier for them to share. Even better, add more options to find out what the majority of your customers choose to spread the word.
8. Are you promoting it enough?
I know you're giving me this look.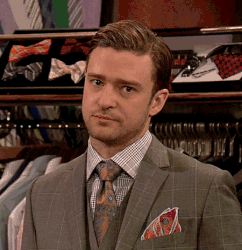 Just hear me out, if your participation rate is low, that may mean it's not reaching the right amount of people.
If it's an open-for-all campaign, you need to make sure enough people know about your program.
Blow it up on social media, let everybody and their pets know that you've got something special to offer. Draft a social media marketing plan to market your referral marketing campaign (take a sip of your coffee every time I wrote market(ing)).
Promote your campaign on your website, create a separate section/banner/landing page that gives a detailed description of your program. Inside your app, add it to the dashboard or the navigation menu, notify the user via pop-ups or interstitial banners.
Add it to your email signature of the team members who are in contact with the customers. Use the brand's social media bios to promote in a subtle way.
Look at Livingsocial – they promote their program at the top of the website on the navigation menu so that you don't have to look any further.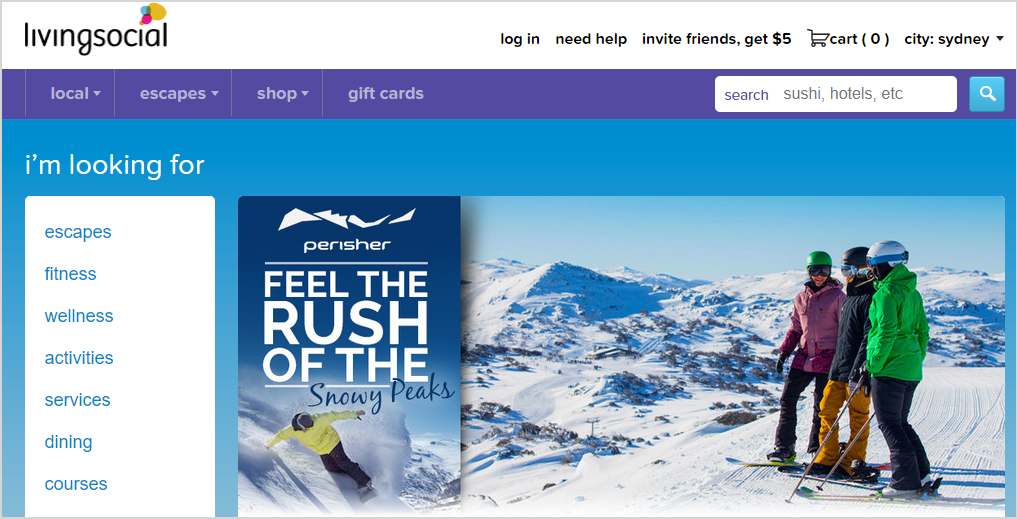 9. Is your customer support team properly equipped to answer user's queries?
Say 'aye' if you agree, the sheer number of queries quadruples when you're running a referral campaign. If you notice a lot of these queries are going unanswered, or your team is getting back to them with the resolution a little too late, you have to start training them actively.
Train your customer service team beforehand to prepare them for the upcoming flood of queries. Equip them with guidelines, give them system access so that they can track a specific referral request. Basically, make sure that someone's always responding to user queries quickly and politely.
10. Are you tracking the right KPIs?
Tracking how many referrals you get at a certain period of time won't give you enough data to process that into an actionable roadmap. Create weekly reports and track the referral count, the rate of participation, conversion rate, average LTV and retention rate of referred customers, referrals made by a single user, channel count, and if your reward amount (for that period of time) is surpassing the referral profit.
11. Is your onboarding top-notch?
Once your customers have referred, their job is done. You have to figure out how to charm your newly referred users so that they stick around. It all starts with an email or an SMS.
If your referrers have shared the email addresses of their friends in the widget, you can start by sending them a notification encouraging them to claim the reward. The more personalized the message is, the better.
Toms' notification email is clean, devoid of any complex process of applying/remembering codes and highlights one clear CTA.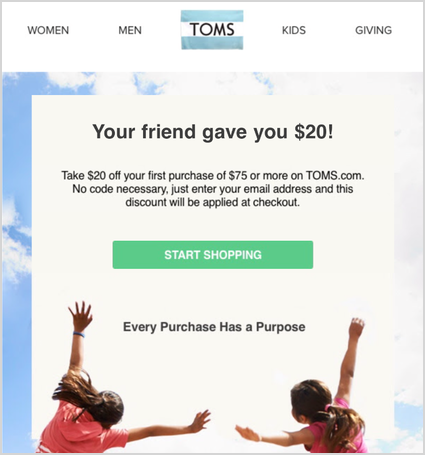 Airbnb takes this a step further and includes the name and photo of the referrer. It adds a tinge of trust and credibility to the email.
12. Is your referral program "one-size-fits-all"?
Have you considered creating separate campaigns for customers based on their relationship with the brand? For example, if you want to encourage new visitors to come back and shop, you can customize a referral program for them which will allow them to shop at a discounted price in exchange for referrals. Similarly, you can even create a campaign specifically for return users to keep them engaged.
If you want to attract quality customers, you have to make sure your existing high-LTV customers are offered a different set of rewards than new users. They should feel like they're a part of an exclusive family. You can't ever go wrong if you manage to make your customers feel special. Monetary rewards may lead to more referrals, but that doesn't mean all of your customers will prefer the same reward. It depends on their needs, and how they've interacted with the brand in the past.
NetSuite offers its customers a chance to be Referral Partners and introduce the brand to companies that fit the profile. They've laid out a list of advantages of being referral partner which has nothing to do with monetary rewards. They've casually offered their partners a choice to receive a referral fee or "if desired, no fee at all".

To make things even interesting, you can opt for a combination of referral and loyalty programs for your advocates. Delight them, keep them hooked by promising exclusive, yet achievable incentives and deliver on that promise when they cross certain milestones.
Over to you!
Eighty-three percent of customers are willing to give a referral after a great experience, but only 29% do. There can be a number of factors that dissuade them from going that extra mile and recommending their friends. You can never be sure of what goes on in the mind of the customers; you can just gather information, observe and draw a conclusion. So, keep on testing, tweaking and optimizing your referral program to maximize the return on investment.
Did I miss something? Comment below and let's discuss!