'Why Things Catch On' or 'get referred' or 'talked about' is a reasonable debate and has many theories supporting it. According to Jonah Berger "Word-of-mouth is not random or luck, it becomes a science when you understand the why." Jonah is a marketing Professor at Wharton and someone who has spent 15 years exploring the factors that make products and ideas that make users 'talk about' it!
In his highly acclaimed book- Contagious-Why Things Catch On, Jonah has proposed a theory that throws light on factors which can be adapted to suit products and business, including app marketing.
This brings us to In-app referrals, an intrinsic part of the app marketing gamut. In-app referral campaigns are quite a rage. They offer an ingenious way of increasing app install in an organic manner and bring in positive ROI for app marketers. That's because the concept of 'word-of-mouth' resonates trust and forms an integral part of any app referral campaigns.
The STEPPS theory can help marketers by helping them in understanding a user's psychology around referrals and how they can motivate their users.
In this article, we will explore the STEPPS theory and try to apply it to the success of Airbnb's mobile app referral program
What is the STEPPS theory?
According to Berger, any product can become viral if it encompasses the below mentioned STEPPS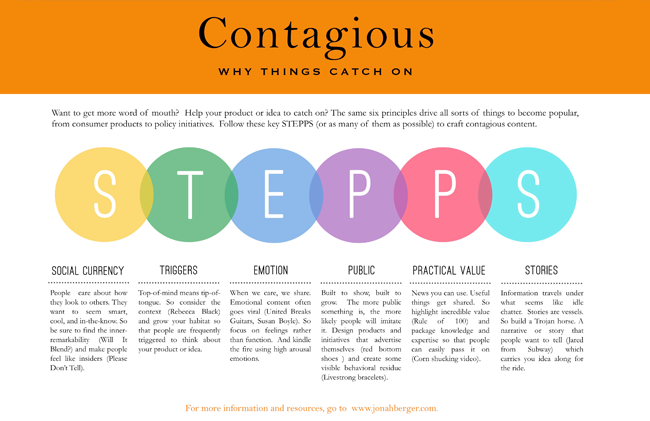 Let us deep dive and explore each of the elements mentioned above,  one-by-one in line with Jonah's theory.
Social Currency Cannot be Ignored
An article published in TNW defines the ideal user base of Airbnb. It says " the service attracts the open minded amongst us, the young at heart and those willing to share their experiences with others." This user description isn't new. In fact it also hints at the more savvy users who have an affinity towards technology. A mobile app referral program hence was a perfect way to achieve growth.
Airbnb's mobile referral program offered social currency to its users at two levels. By introducing it via their mobile app interface they gave an opportunity to people to share a legit link with other travelers, even on the move. The brand's voice echoed to them at a personal level, and all in all, gave them something to talk about.  
It is reasonable to say that these users were also actively involved on social media and thus social sharing gained speed. All in all, the app referral program, made them look 'cool'-a significant learning of the STEPPS theory. Till date, the referral program brings in oodles of revenue for Airbnb and a major reason for sharing is propelled by the fact that it defines a certain lifestyle and a cool quotient for people, more than the incentive associated with it.
Used all sorts of awesome stuff for #Chicago trip: @Uber @Uber_CHI & @Airbnb. Will definitely use both again & refer friends! #Uber #airbnb

— Elizabeth Kanter (@elizabethkanter) May 20, 2013
Social media is at an evolved phase. It has come to a level where people can recommend with authority within their social network, which worked very well in case of Airbnb along with the ease it brought to the users.
What's The Trigger?
According to Jason, " We need to design products and ideas that are frequently triggered by the environment and create new triggers by linking our products and ideas to prevalent cues in that environment. Top of mind leads to tip of tongue."
Back in the days, Airbnb was just a property listing site. They realized that a large part of their business growth was due to personal recommendations, and that's when they decided to re-launch their referral program. While doing so, they laid extra emphasis on their mobile app. In a popular article that discusses their success with referrals, they made a very interesting point- "very few apps accept referrals on mobile despite the majority of emails read on mobile."
By blending referral marketing within their app, Airbnb was able to tap a wider audience and thus was able to create extensive word-of-mouth. That's not all. The team behind the mobile app went a step further by introducing and testing personalized links, which was another breakthrough for the team.
Emotions Check
Another remarkable observation in the STEPPS theory is the power of emotions, which in turn builds word-of-mouth. Berger says that "naturally contagious content evokes some kind of emotion, and emotional things get shared." Naturally these emotions can have a wide spectrum and will differ from one product to another. For example, the golden and blue dress debate divided the internet into two sections. One could witness emotions such as joy, intrigue, and shock, making it go viral.
The emotions associated with Airbnb's app referral were slightly different, however the results were quite similar. The campaign offered users a $25 incentive/travel credit for each referral, making it a talking point. It was able to evoke surprise, joy and other positive emotions in the mind of the user.
Wow. Sign up on Airbnb using my referral and get ₹1,374 in travel credit! :3 @airbnb https://t.co/JUM5PMcqRw

— Shreyas Pai (@inediblepie) February 24, 2016
Is It Public?-Monkey See Monkey Do
It isn't a surprise. We tend to follow the footsteps of those whom we value. Sometimes these actions imitate 'the monkey see and monkey do' approach. According to a Nielsen report, 84% of people go by recommendations from friend and family. If we observe it carefully, word-of-mouth via mobile app referral follows the same trend.
In Airbnb's case, it was further elevated by a personalized landing page, when a user installed an app via a referral link.
Practical Value- Duh!
Is your referral program providing any practical value to your users? In most cases, the high-point of app referral program is the incentive associated with it. Many marketers tend to value this aspect the most while running an app referral program. Free rides and referral bonus gave Airbnb user the practical value they needed.
This gave users a reason to interact with the app leading to a positive word-of-mouth publicity.
What's The Story?
Berger says that information travels under the guise of idle chatter. In the case of Airbnb's app referral program, this chatter was way louder! As humans, we tend to share stories. While In-app referrals worked their magic on users, an overall branding and marketing also played a pivotal role in the growth of Airbnb.
In a nutshell it was word-of-mouth from both within and outside, that makes Airbnb a trusted choice for travelers today.
Over To You!
The STEPPS theory helps us in understanding the finer aspects of referral marketing and is immersed in psychology. It's upon marketers to gauge its uniqueness and apply it to their business.
If we closely evaluate the STEPPS put forth by Berger, it is evident that In-app referral campaigns by Airbnb had all the above-mentioned elements, which lead to their growth.
Do you think your app can benefit from In-app referrals and gain the same traction as Airbnb? We can help you with just that!