While we may tend to seek and implement more ornate app marketing tactics for the sake of variety, our experiences and choices ultimately bring us back to incorporating this staple technique into our mobile app growth plan.
A lot of app marketers that we've worked with have often mentioned the benefits of referral marketing and how this marketing technique has helped them build better traction around their app, in one way or another. For some, it was a way of acquiring new users and for others, it was chosen to test its effects against churn.


A recent panel discussion, however, brought back the focus on using referrals as a platform for engaging users and increasing their lifetime value (LTV)- a tender spot for all app marketers.
While we are ardent supporters of referrals as a growth tool, we understand that a lot of app marketers may think otherwise. That's why we decided to re-explore the topic from the angle of user engagement and customer lifetime value.- something that also compliments the current trends in the app ecosystem.
We hope that this statistics and research driven approach will encourage you to explore more on the referral front!
User Engagement Crisis Is For Real- How Referrals Can Help
We can't deny the constant challenges that app marketers face when it comes to user acquisition. However, what lies ahead is even bigger. An app marketing plan that lacks a strategic approach towards user engagement may be headed for doomsday. Clearly, if we can't fix user engagement we can never fix user retention.
According to Raj Aggarwal, Co-founder of Localytics, we are in a world that is facing mobile engagement crisis, and we totally agree with his take. The present day app ecosystem has changed drastically, and we need to take cognizance of the fact that most users do not see the relevance of your marketing efforts the same way as you do.
For example, you may feel the urge to notify your app users with content based on their mobile behavior by using push notifications as an engagement tool. However, the truth is that 52% of users find push notifications annoying– that half of your app users! The same is partly true for In-app messages as well. Another big hit with app marketers are In-app ads which are used interchangeably as an engagement tool and/or as a content dispensing tool, however, are often blocked by app users.

The Challenge
While all the app engagement techniques mentioned above, have their own merits, they at some point or another have been labeled intrusive. This is significant especially when 56% of our digital time is spent within mobile apps. Given that a large part of this time is devoted to 'powerful engagement driven apps' such as Facebook, Banking apps or utility apps, your app may not win hearts without a strategy that isn't targeted, immersive and less intrusive
Another thing to remember here is that 25% of apps are only used once, whereas 58% of user churn in the first 30 days of using an app. If you miss an engagement driven approach, you also miss a chance to build a lasting relationship with your app users.
The Solution
Refer and earn programs have helped many app marketers to build consistent engagement that adds to the app's virality. MakeMyTrip- India's premier travel portal increased its app engagement and conversion rate by 25% which was driven by mobile app referrals!
Mobile based referrals provide inbuilt network effect, incentives and have the ability to induce virality.
People love sharing what they find useful. A Nielsen study states that 83% of users trust the recommendations from friends and family, making referral key to an app's growth in today's day and context.
A common trend among marketers is to think of referrals as a solution to scale. However, they often miss that it is a marketing tactic that works irrespective of the stage that an app may be at. What is required here is to use this tactic intelligently without trying to be too pushy. For example, Robinhood- a stock trading app leveraged referrals and a waitlist option to build an early list of over 1 million subscribers!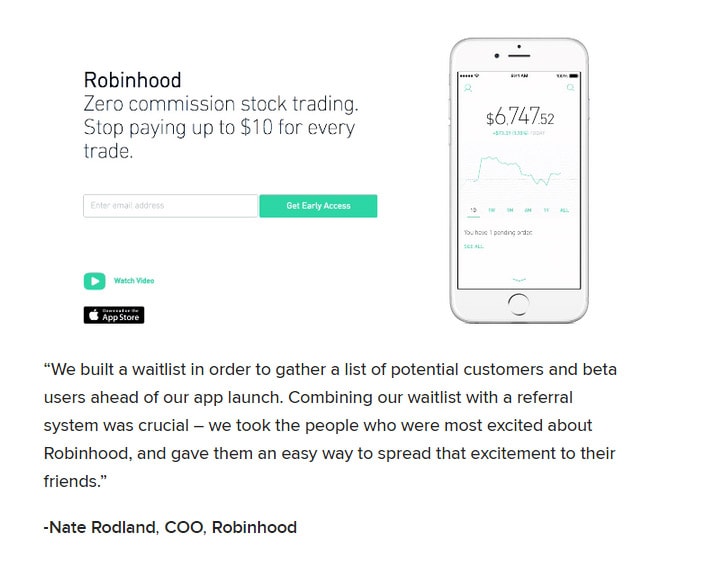 Amazon's mobile based referral program is another example. Here's a look at why the brand chose one.
 Customer Life Time Value- How Referrals Can Boost User Longevity
There's a lot been written about CLTV (Customer Life Time Value) and how it is one of the most significant metric for app marketers.  A very thoughtful post on the Apptentive blog talks about why marketers should value it more than ARPU (Average Revenue Per User). Alex Walz, the author, summates the debate. He says:
 "Customer lifetime value overcomes many of the limitations of ARPU by incorporating everything you know about your customers to calculate a more precise metric of value."
Having understood the true value of CLTV, it is significant that app marketers focus on this parameter to ascertain the real worth of an app user and their marketing efforts.
The Challenge
Monetization stands for the amount of money spent by a user during the entire time he was using your app. Retention, on the other hand, is defined by the extent of loyalty (in terms of app usage) displayed by a user. Lastly, virality is determined by the value of additional installs generated by existent users.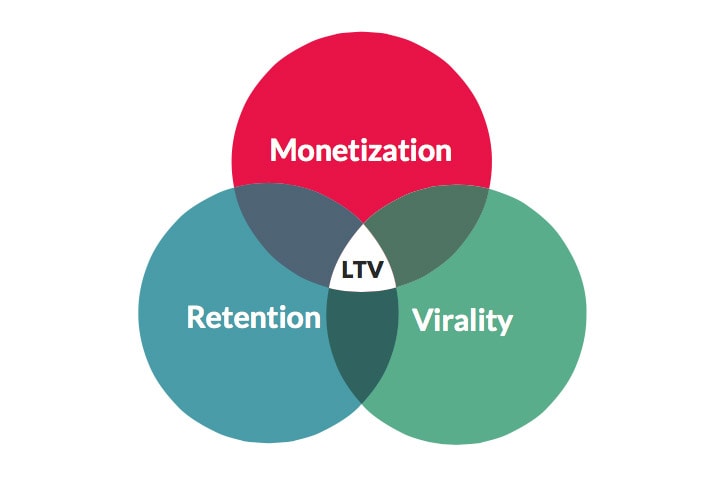 Since LTV is at the center of it all, it is pertinent that app marketers choose a marketing tactic that complements and strengthens each element of this Venn diagram.
The Solution
An indepth study done by AMA states that referred customers have approximately 25% higher customer lifetime values than non-referred customers, even after factoring the incentives.
Given that these users are loyal, they tend to continue to interact with the app and boost retention metrics. An app user's loyalty also influences the monetization element discussed above. Another study published in the Harvard Business Review concludes the following about users acquired via a referral route. The study states that>
Referred users have a higher contribution margin.

They have a higher retention rate, and this difference persists over time.

Referred users are more valuable in both the short and the long run. The average value of a referred customer is at least 16% higher than that of a non-referred customer with similar demographics and time of acquisition.
Smart app marketers tend to introduce various referral campaigns that act as a catalyst for continued In-app purchase as often seen in E-commerce, gaming and other similar app categories.
Having witnessed how monetization and retention elements get elevated by the incorporation of referrals, let's look at how referrals help in building virality. 
Very often marketers overlook the fact that app users are their biggest salesmen. A crazy viral app is reflective of the product  and has qualities that force the user to share it with others and can't be done without a kickstart.
In-app referral campaigns trigger the requisite user behavior, providing them enough avenue for a recommendation and is an ideal kickstart. This creates a viral loop, thereby bringing in more and more users to the app.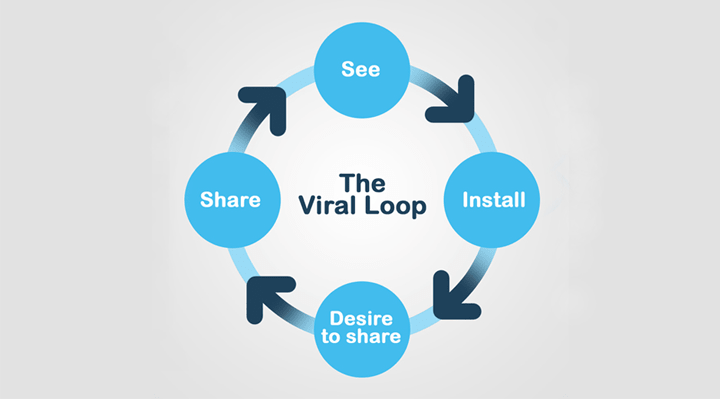 We all know what that means in the long run!
The Final Verdict
Referral marketing has become such a casual marketing tactic that sometimes we tend to ignore its merits and fail to recognize its significance in our app referral marketing funnel.  Our users are important. Mobile-based referrals can not only win their hearts, but also ensure that they are sufficiently engaged and continue to use the app in question.
Will this research-driven discussion motivate you enough to dabble with In-app referrals? If you are someone who has benefitted from using In-app referrals would you care to share your experiences?
Do let us know in the comments below!
Image Source: Apptentive Blog| Optimizely Blog | MobiAffliates