What is one of the core elements of successful online business?
I won't be mistaken if I say that this core element is traffic.
But why are we all obsessed with gaining traffic?
The scheme is pretty simple. Traffic helps to move your online business forward crashing the competitors and attracting new customers.
Easy-peasy.
No way!
Gaining traffic to your website and pushing it up to the Google top 10 is a laborious process.
You will have to implement SEO here. But where to start if you know nothing about optimization?
I am going to show you how to grow traffic for your SaaS website with the help of SEO.
Let's move on!
SaaS vs Traditional Software
As this guide is focused on revealing the ways of gaining traffic for SaaS websites, I would like to start with the basics. In other words, I want to set the difference between SaaS and traditional software websites.
SaaS (Software as a service) is a subscription-based model where the software is hosted in the cloud and accessed via the internet. And now let's see how SaaS differs from traditional software services practically.
Traditional software:
Users purchase the software upfront as a package and install it on PC eventually

Licenses may be limited to the number of users and/or devices where the software can be deployed
SaaS:
Users subscribe to the software, usually on a monthly basis, rather than purchase it, meaning no upfront costs

Users can cancel  their subscription when they don't need it anymore

Applications are updated and used online with files saved in the cloud rather than an individual PC
Now I want to recap the benefits software as a service has:
No hardware costs

No initial setup costs

Updates are automatic

Pay for what you use

Etc…
It won't be hard to conclude that SaaS takes over traditional types of software nowadays.
But how to drive traffic to your SaaS website?
What Your Audience Search on Google
As an entrepreneur who has just launched a SaaS product, you are curious about how to make it visible to your target audience. You start asking yourself "what search queries are people going to use to find my product?"
Common sense can help you understand what people are going to ask on Google but if you want to know the exact inquiries, you will have to do more in-depth research.
How to do this research?
Let's start with the basics first.
Pay attention to the comments your customers share on your website. To what they ask in their emails. All these things can be helpful hints what your ideal customer would ask on Google.
I believe it would be better to give you an example along the way. Thus, you will understand how to get the process on the right track.
Assume that you've created a SaaS product that helps you search private email addresses. The first query that comes to my mind is "find email address." However, what other queries might be used? Let's see:
"How to find email address"

"Find email address by name"

"How to find someone's email address

Etc.
The examples above show that it isn't as hard as it seems to predict search queries that might be used by your target audience.
But the next question you will have to find the answer to is "how your target audience discusses the topic you would like to promote?"
The Reaction of Your Target Audience to Your Topic
Here you will need to get more technical information on the keywords your target audience might use to find your product. To get the data, I recommend you to use Keywords Explorer tool from Ahrefs. What data will you get?
Now, let's move forward with a concrete example. As I mentioned before, one of the most common inquiries for SaaS that helps search for email addresses is "find email address":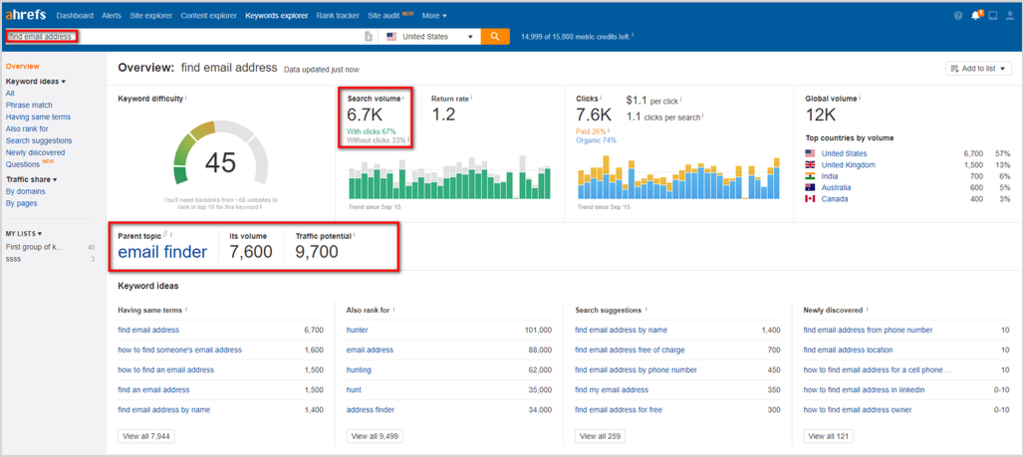 You can see from the screenshot above that the keyword "find email address" has search volume of 6.7K in the US only, which is a pretty solid number. If you pay attention to other countries, you will see that the next position by search volume belongs to the UK and it is 1.5K searches per month. Furthermore, you can see a parent topic "email finder" with 6,7K search volume. You can optimize your content for this keyword as well.
If you need more juicy keywords, you can get them using keyword generator tool.
Explore Search Suggestions on Google
I am quite sure that you've noticed a little trick that Google has. I am talking about search suggestions feature. When you start typing a specific inquiry in a search bar, Google suggests you possible variations of your request: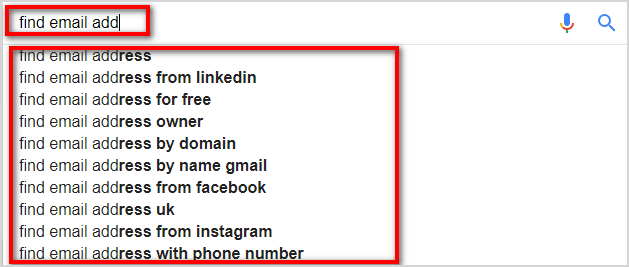 It is remarkable that adding the following letter provides you with different results: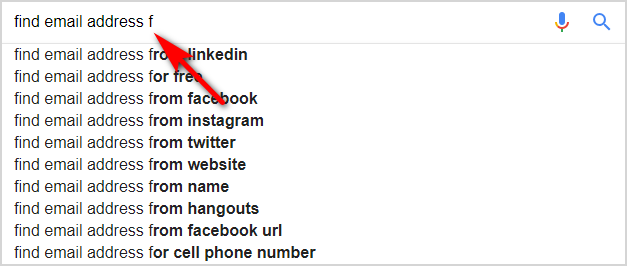 If you scroll down to the bottom of Google search page, you will see related searches that you could use by yourself: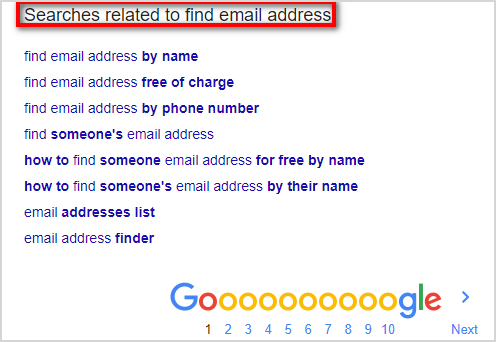 However, if you need additional metrics that would help you know how each keyword performs, I advise you to use "search suggestion" report. It shows you the information about keyword difficulty, cost per click value, search volume, etc. metrics:

Explore What You Can Get on Social Media Channels
Social media marketing is another way of gaining traffic for your website. So, let's see what you can do.
Facebook is a social media platform that people use both for entertainment and business purposes. When you search for potential customers on Facebook, I advise you to discover what opportunities you could get from your competitors. Just put a query and go to 'groups' tab: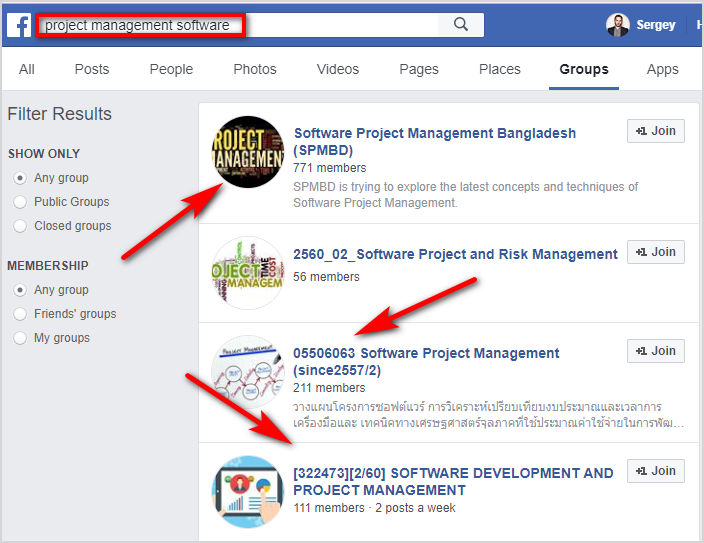 You can see a list of groups that offer the same service as you do. Thus, you can solicit customers these companies have.
Forums and communities could be excellent helpers in growing your traffic and audience as well. For example, Quora – a good match for finding ideas for your content. As you know, the primary goal of any SaaS company is to solve the problems people have. And creating content that gives answers to your customers' questions is the right choice.
Here at Ahrefs we create content that brings us tons of traffic that converts into customers. And the "secret" of crafting such outstanding content is simple – we give answers to the questions our target audience has. Quora can give you a lot of fresh ideas for that. Just type the inquiry you are interested in and explore the concerns people have transforming them into content ideas: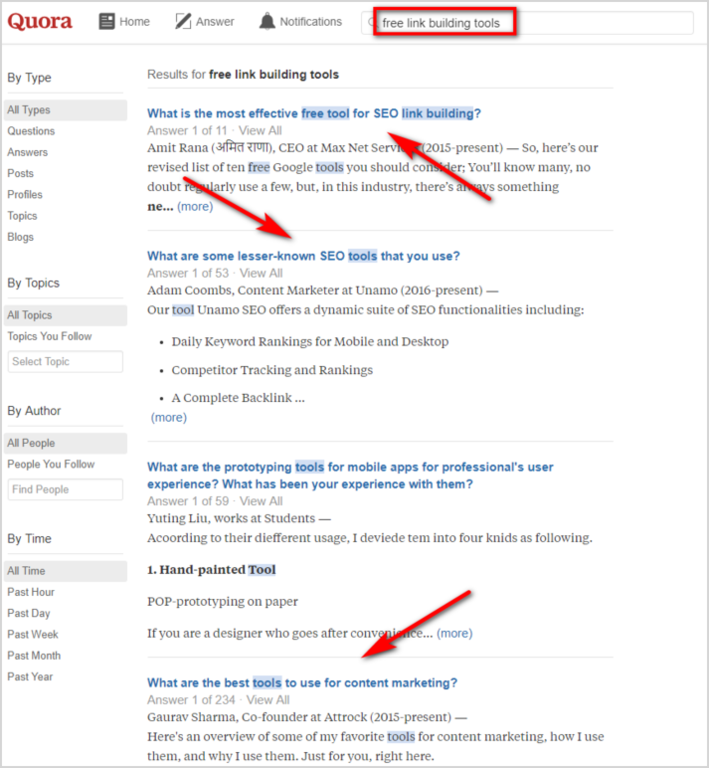 The way of transforming the questions on Quora content ideas is simple. I noted three questions and here are the topics I can cover:
"A List of the Most Effective Free Link-Building Tools"

"Powerful SEO Tools You Know Nothing About"

"Top Content Marketing Tools You Should Use in Your Practice"
Nothing complicated, am I right?
Optimize Pages for Search
There is no need to remind that you should optimize pages of your website for search. But what should you do correctly?
Here are the primary points  to focus on:
URLs of your website's pages must inform of the specific information a given page has. You can (should) include a target keyword in a particular URL you want to rank for. Here is how it looks 'domain.com/blog/how-to-find-email-addresses.'
It would be nice if you could help search engines with identifying pages across the website you host. To do this, you should include a couple of features that are 'meta title' and 'meta description.' Both of them must contain target keywords you want the pages to rank for. 'Title tag' aims to trigger users to click the page with relevant content that would contain a keyword typed in a search bar. 'Meta description' provides users with a summarized page content.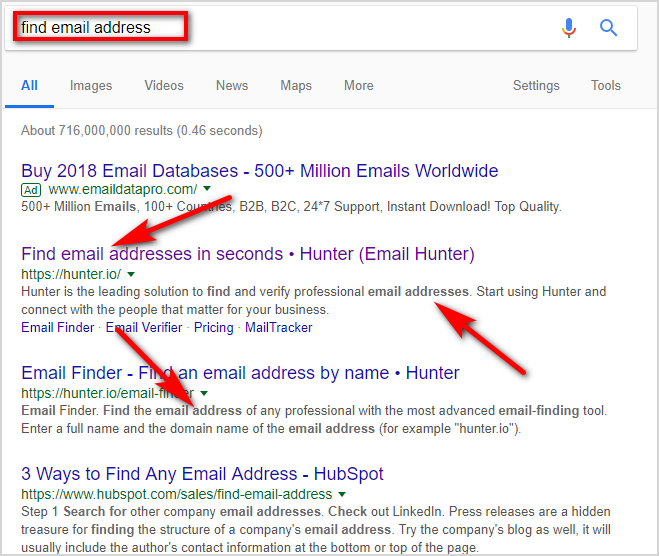 It is obvious that content makes up the bulk of the information your website has. It means that your content must be uber useful and unique. If you can't create high-quality content, you won't push your site forward in Google, and no SEO trick will help you do that. Content is king, and it must always be oriented to your target audience. By the way, to run a blog successfully, I recommend you to produce long-form content. It is something around 2, 000+ words length.
Separating content with headers and subheaders makes it easier for users to read it and helps search engines understand the structure of the website. We use so-called 'H1', 'H2', 'H3' divisions for content.
H1 element serves as the main title for the piece of content. It should contain a target keyword.
H2 element serves as subtitles for other sections of the post. I advise you to use long-tail keywords in these subtitles.
Now I would like to show you how these headers and subheaders should be structured.
H1: A Complete Guide on Email Outreach

H2: Prepare the Basics




2.1 H3: Why your messages end up in a trash bin?




2.2 H3: Make sure your persona has credibility

H2: How to Find Your Target Audience




3.1 H3: Google search




3.2 H3: Ahrefs Site Explorer tool

H2: How to Find Personal Email Addresses




4.1 H3: Social media search




4.2 H3: Tools for searching emails

H2: Outreach




5.1 H3: Craft an email template + email pitch




5.2 H3: Sending follow-up emails




5.2 H3: Track the progress

Conclusion
Visual elements make your website more attractive to your customers. But crawlers can't understand the information each image features. Thus, you should help them with this. Add 'alt tags' with descriptions to the images. Don't forget about implementing target keywords within alt tags.
Internal linking makes the navigation across your website easier, and helps search engines to crawl your website. You should not neglect this option.
Make Sure Your Website Is Accessible for People and Search Engines
I want to consider a few essential technical SEO elements you must not forget about. They are a site's loading speed, sitemap, and a robots. txt file.
Site's loading speed

is crucial for positive user experience. Nobody likes to wait minutes while your website is loading. Furthermore, 40% of users tend to leave website if it takes more than 3 seconds to load. Thus, I advise you to use

Google's PageSpeed Insights

tool. It shows you a current speed of the site and gives the recommendations on how to improve it  

A

sitemap

is a file that helps crawlers run across all the pages your website has and see how they are connected to each other. It makes the process of searching and indexing pages easier

Robots. txt

file helps the crawlers understand which pages of the site they should and should not index 
Don't Forget to Build Links
Of course, I couldn't help mentioning one of the most prominent SEO ways of gaining traffic. This is link-building.
I practice two link-building directions that work like a charm. I am talking about email outreach and guest posting.
Email outreach aims to build business connections between people and build links as well. Here is a quick overview of this strategy by steps.
First of all, write a piece of content that would blow one's mind with its awesomeness. Then go to Google and search for competitors' post that covers the same topic and has a fair amount of backlinks.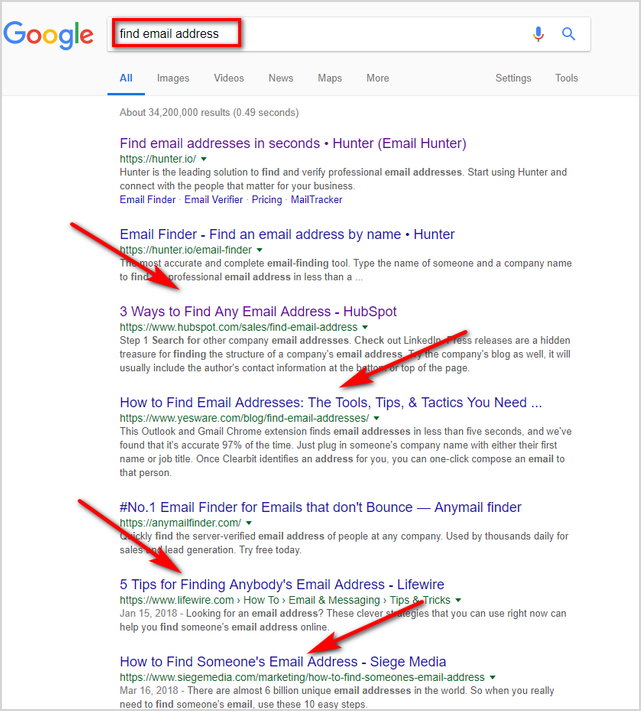 Afterwards, your purpose is to see how many backlinks a preferable post has. Go to Site Explorer tool and put the URL of a given piece of content.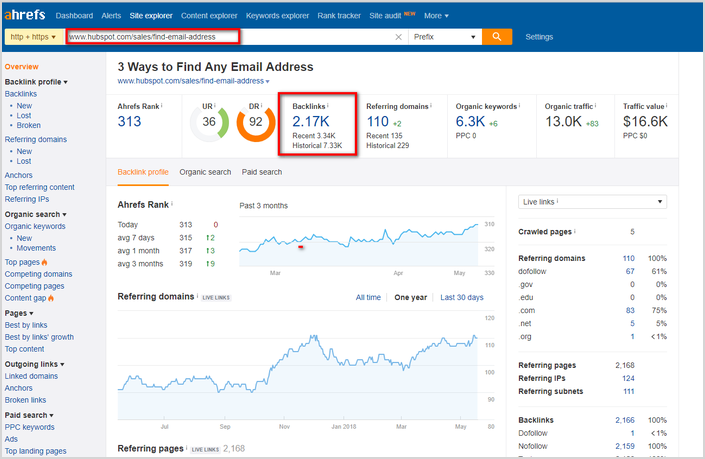 The post has 2.17K backlinks that is a big number. I recommend you to filter down the results by date. Let's see how many backlinks this post has for the past two months.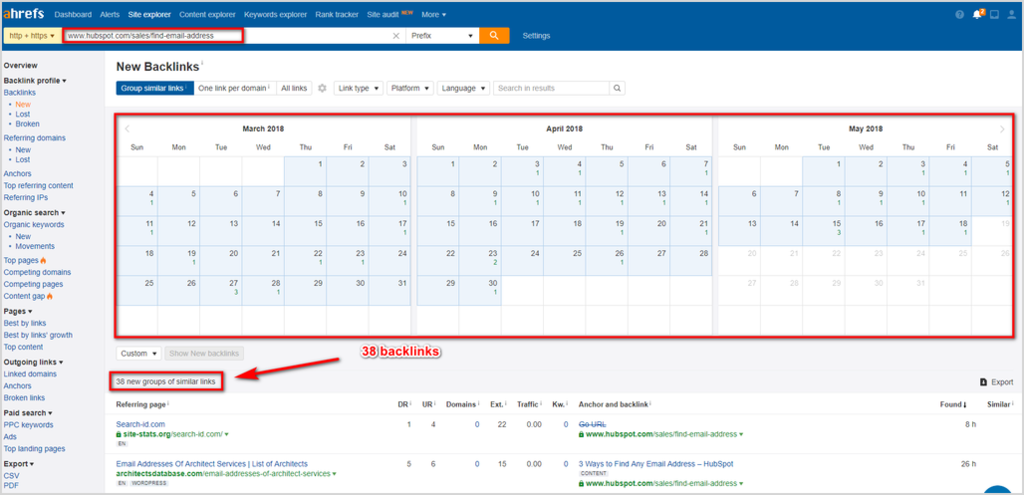 As you can see the sum is 38 backlinks now. What's next?
Explore each backlink, find author's email address and send a personalized email pitch for further collaboration.
Guest posting is the most resultative and legit way of earning backlinks. This method is based on win-win relationships. You offer unique and high-quality content to a blog and get backlinks in return. But, abide these three simple rules:
Provide high-quality and unique content

Offer your content to the blogs related to your niche

Prioritize the websites that have high traffic potential

Link to other relative sources
That's it. Follow these rules, and you will succeed.
To Conclude
It won't be an exaggeration to say that SEO is a science that forces us to discover different strategies of optimization from all sides. Yes, it seems hard to accomplish, but it is possible for sure.
I have just introduced you some actionable SEO tips that would help you generate more traffic. In a nutshell, here are the main aspects that have been reviewed in the post:
Do an in-depth keyword research

Optimize pages for given keywords

Take care of site speed and its structure

Build more links
If you found this post useful, feel free to leave your comments and share on your social media channels.