We caught up with the latest Avenger flick over the weekend and realized that we've got one amongst us! And with that, we are glad to present to you all -AppVirality 2.0- the super duper Avenger that's set to make the process of creating your app campaign fast and fun.
Since our launch in 2015, it has been our earnest attempt to offer the very best on the product side to our customers. In a tech-scenario, this may take a while, but as makers we realise that it is a joyous moment, when that finally happens!
Today is one such day for us.
The 2.0 version has a brand new look and is packed with efficiency.
We would love to take you all for a swift tour of the new dashboard, but before that, we want to celebrate a little by reminiscing our journey so far. Shall we?
AppVirality- The Journey So Far
Since 2015, AppVirality has signed up over 300 customers spread across India, Australia, and SE-Asia. We've also been successful in generating over 6M organic installs for our customers, during this time.
Prominent names from the healthcare, travel, dating, on-demand service, news, transportation network, restaurant service, online grocery, telecom and many others have joined hands with AppVirality to give their mobile apps the much-required boost. This has meant a continuous stream of feedback and suggestions, and we are glad that we were able to incorporate a lot of it in our newest dashboard.
Without much ado, here's AppVirality 2.0 for you all!
What You Will Love In AppVirality 2.0
Clean Interface
We totally get it when the interface may become a hurdle in getting the best out of a tool. That's why we decided to give AppVirality 2.0 a trim, a brand new makeover, that is not only aesthetically pleasing but also tends to showcase the best features that we have to offer.
The sidebar is well highlighted, and it will be easier for you all to monitor the flow of your campaign. We've also updated app settings, replacement tokens, and other such features to make the process more quicker for you.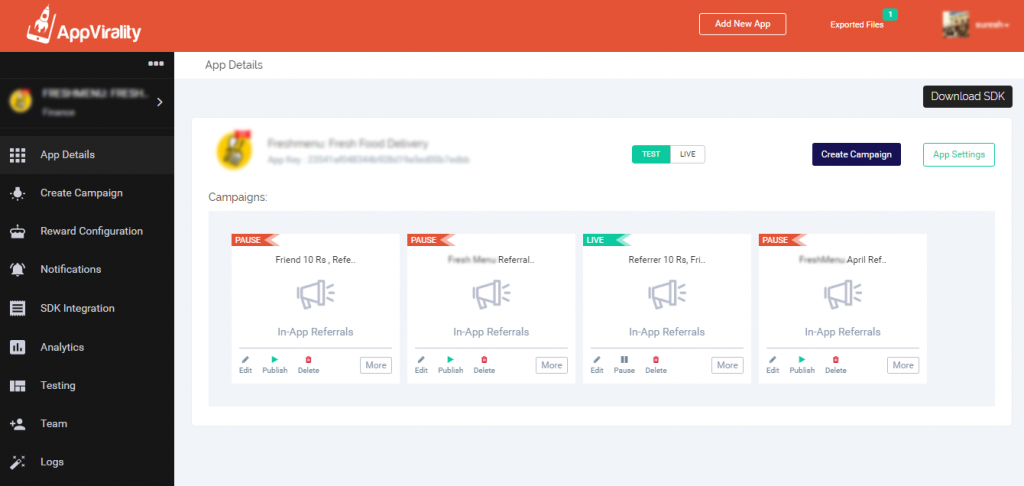 Enhanced Functionality
A large part of the new dashboard dealt with enhancing the functionality for you all. We wanted to give you a platform that you can own and not feel left out. Two major highlights here are 
Swift campaign creation- We have cut short the process which now takes only  ¼th of the time.
Enhanced Analytics – you can now track the whole journey of the referrer and the friend as well as monitor every small detail about both the parties.
Rewarding through coupons is more efficient and easy now
Friendly email reminder from the team, in case of coupon configuration
Alert message at each step to streamline your journey
Over To You
That's all folks. We would love to know your feedback/ tips and suggestion to further better our offering, so don't hesitate on that front!
We are just an email, tweet or call away!
In the meanwhile if you want to refer us to your friends, and they would want to get a hands-on demo from a friendly member of our team, please do so by clicking below.