Hailing a cab (or sharing it) has never been easier. All you need to do is to download a simple app, punch in the location details and in a matter of minutes you'll have a ride waiting for you at your doorstep. But have you ever wondered about the dynamics behind it? When was the first time you hopped on a UBER or a Lyft or used any other such service?
In most cases, it would have been a message, an e-mail or a social media post from a friend sharing their referral code/link, which made you use the service.
How Referral Marketing Brought Change In The Taxi Stratosphere
The real change in the current taxi stratosphere isn't decades old, in fact, UBER (the forerunner) brought this revolution only 6 years back. Being an early adopter, it benefitted from many factors that included leveraging local growth opportunities and others, however, what really made a difference was word-of-mouth publicity/referrals that were generated by its loyal users.
Since the service meant downloading a mobile app, In-app referrals emerged as the most convenient way of enticing users to use the service.
With stiff competition, both within the industry and from local services, these cab start-ups became an overnight favourite. After all, it was all about the convenience and trust (powered by the magic of word of mouth/referrals) that was being served on a platter to the users!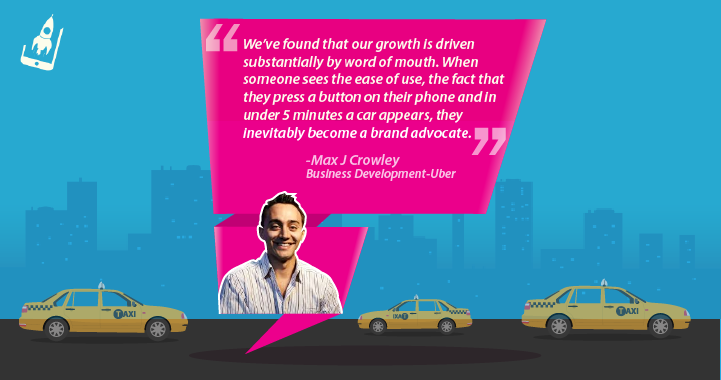 It doesn't come as a surprise then that most better-off cab services today use referral marketing to boost app downloads, thereby increasing their customers base.
Why Are In- App Referrals Popular Within The Cab Industry?
Here's how:
How In-App Referrals Helps A User
Let's look at a simple example, very recently I received a message from a friend that said the following:
It mentions a gift for me (great content copy), and when I click on it, it says that my friend has offered me a free ride for upto $20. Now, this factor hits a user's psychology in many ways >
It makes them feel wanted or being considered.

This is a personalised deal coming from a reliable source, hence more authentic.

It creates a WOW moment for them.
But that's just the psychological bit. The most important factor that has led to the popularity of In-app referrals (especially within the cab industry),  is the fact that it answers 'what's in it for me' to the point apart from offering a comfortable deal to both the referrer and the user, in most cases . This increases the likelihood of more referrals coming your way!
Popular Cab Services That Offer App Referrals
There are numerous cab services that offer customers referral links, however below mentioned are the best and the most up-voted by its users
UBER
One of the most popular In-app referral program is run by UBER. It offers a two-way referral, where in both the referrer and the friend gets incentivised. With UBER, one can either hail the cab service or sign up as a driver to be eligible for a referral program.
 Grab Taxi
GrabTaxi is one of the fastest growing taxi platforms in Southeast Asia. Though the company does not have a passenger referral program, they have one for their drivers.
 LYFT
Lyft was conceptualised to give meaning to community ridesharing. This fine aspect coupled with referral marketing has made it the biggest competitor to UBER today.
The concept of cab sharing apps has gained much significance in the last 3 years. While few popular names are present in multiple cities across the globe, a few local players are also gaining tractionsfrom everyday commuters.
 Side Car
One of the newest services, Sidecar seems to be a popular pick amongst users. Much like Lyft, SideCar also follows community ridesharing. Since the focus is on community building (through drivers), they have a unique referral program meant for friends that refer new drivers.
 Get Around
GetAround is a peer to peer car sharing app and offers a friend referral program to its users.
A few other names include FlyWheel, GoCatch, BounceCars, and a huge list of services back home.
 How In-App Referrals Helps An App Developer
If used wisely, In-app referrals can create wonders for the app's growth. For an app developer, it offers numerous benefits >
If executed properly, it increase word-of-mouth and is a great tactic to boost app downloads. Being in the same business our research states that In-app referrals increase downloads up to 36%*

A great referral program boosts the longevity of your service through the app. Also the lifetime value of a referred customer is 16% higher than a non-referred customer as stated in the  Journal of Marketing

A referred customer spends 13.2% more than a non-referred customer. This is a great news for cab or ride sharing apps as far as revenue generation is concerned.
 How To Make The Most Of In-App Referral Program For A Cab Service App
But that's not all. Running a successful In-app referral program requires monitoring the right analytics apart incorporating certain important elements to make it shine.
Personalise referral links– I've seen a lot of referral links/codes (that are enticing) however lack personalisation. The beauty of a great referral code is that it instantly wants a user to click on it because they get to see a friendly name there. A personalised landing page that showcases an image of the referrer is the cherry on the cake. Introducing these two simple yet effective techniques will give more power to your In-app referral program.
Promoting In-app referrals– Launching a program without a proper follow-up (promotion) strategy is quite meaningless. This mini guide can help app developers with tricks and tips on how to nail the same for your cab service.

Identifying influencer for your referral program – In-app referral program have huge contributors, however a few of them shine a tad brighter. Identifying the key influencer and rewarding them is a great way to boost your In-app referral program. But here's a tricky bit. How do you identify your key loyalists/supporters?That's where AppVirality can come to your rescue. AppVirality's dashboard helps app developers in analysing key influencers based on micro-analysis of your data. (Image)

In- App analytics– When it comes to In-app referrals, there are few metrics that hold more value than others. These include understanding the numbers around-invites (sent by a referrer), clicks and installs generated through them and lastly the revenue earned by the app developers. All this can be made simple by using the product offering from AppVirality.

Identifying spammers for your referral program– Running a smooth In-app referral program can get tricky when you have to reward even the suspicious users. AppVirality's algorithm helps clear the clutter and helps developers to focus and reward only the legit users.
 How easy is it  to implement in-app referrals for your app?
Most developers get overwhelmed by the idea of In-app referrals implementation considering it extremely cumbersome. However the same does not hold true for AppVirality. With AppVirality app developers and marketers can run In-app referral campaigns under 30 minutes that too without coding! The developers require a 25KB SDK and get access to a DIY (Do It Yourself) dashboard. That's how easy it is!
With the growing spectrum of the cab service that includes cab companies extending into food delivery, pick and drop services etc, a taxi app is crucial to the business and so are In-app referral programs. Thus, cab services should not compromise on either aspect.
I believe that by giving the user the power to execute everything from within the app like payments, referrals, etc.  you are not only empowering them but also turning them into a lifelong loyalist.
Which cab service has the best In-app referral program? Which one's will you recommend to our readers? We'll love hear more from you.