Ever thought why your referral marketing program isn't attracting as much steam as Dropbox or Airbnb's cult campaigns?
The answer may lie in reinventing the way we approach referral promotions.
In the 'good old days of internet,' every new 'hack' got noticed, there were fewer competitors, and early adopters got infinite edge. Brands like Dropbox and Airbnb are fine examples that explain the above scenario. Timehop to the present day, and we all know the stiffening market and the lack of bankable new techniques.
The real challenge lies in making referral campaigns shine, albeit with newer and evolved ways.
Here's a simple gameplan to get the traffic from your referral campaign soaring high! We've included umpteen examples and spins for the web and mobile audiences.  
Offline Promotions Of Referral Campaign
As Marketers, we often disregard the power of offline promotion when it comes to referrals. Discussed below are ways in which brands used them to promote their referrals.
Billboards
Though rather unique, many brands that offer referrals have invested in billboards on prominent subways and streets. It helps the brand in strengthening their image as well as inducing word-of-mouth around their campaigns. There are two approaches to billboard promotion.
Create a message that's loud and talks straight about referrals.

Create a message that's subtle and is focussed on the core value proposition and let word of mouth follow.
As a Marketer it's a choice that will define the way users perceive your brand and therefore should be thought through. Lyft – a taxi app that offers refer-and-earn campaign, has adopted both the approaches to lure users to download the app. It collaborated with artist Jeremyville for a campaign that resulted in massive billboards in Times Square, that not only brought attention but forced many to download the app. With a powerful product at forefront, participation in referral campaign is the obvious right step!
Cost Spends: Very High
Car/ Bus Wrap Ads
Yep, you read that right. With millions of users hopping on a cab/bus every day, car wrap/bus wrap ads have become an advertiser's real estate. If used smartly it can become an ideal playground for selling a 'refer-and -earn' campaign.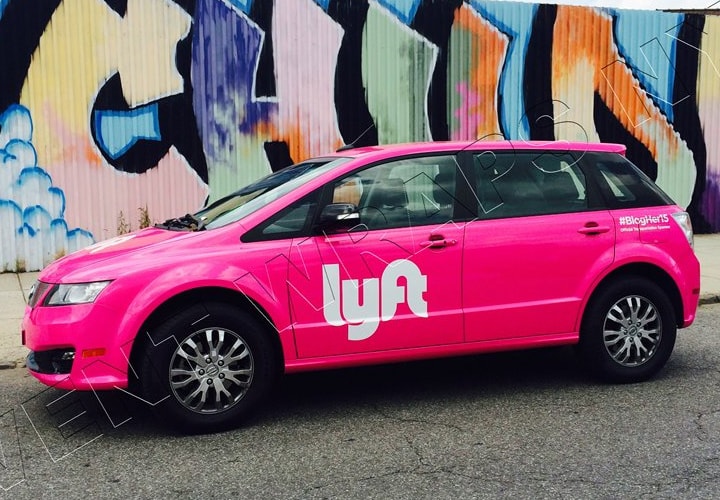 Cost Spends: Very High
Drone Advertising
Imagine selling your referral idea using drones! Quite rad, right? UBER recently used drones while launching its services in Mexico. Though the strategy invited a lot of flak, it did its job- garnering eyeballs!
Cost Spends: Very High
Uber is using drones to advertise in Mexico as the startup plans to double its presence in Latin America by 2018 https://t.co/bOcIWJy5HW pic.twitter.com/SUdlkDlfU5

— Bloomberg Technology (@technology) October 14, 2016
The above-mentioned promotion tactics are for brands that are sitting on hefty Marketing budgets and can afford such tactics. However, small scale referral promotion can be in the following ways:
Pamphlet distribution using referral codes

Newspaper insertion

with referral codes

Printed cards with codes

that can be distributed during live events.

Giving

existing users

the ability to print their cards with their codes.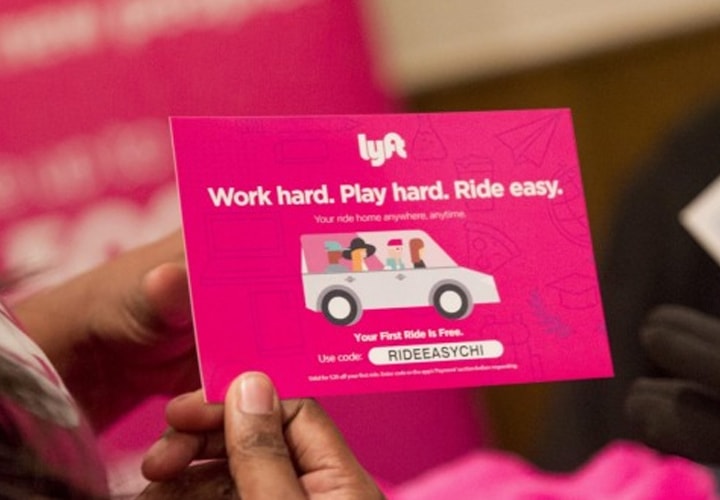 Online Promotions Of Referral Campaign
Online promotions are always deemed superior to their offline version, given that online campaigns can be tweaked, stopped and gauged at all levels. There are numerous ways to promote a referral program, be it web or mobile and we've listed the ones that are easy to adapt and execute.
A) Mobile Platforms
Mobile Push Notification
Mobile push notification is the simplest way of updating your users about the presence or launch of a refer-and-earn program. In most scenarios, push notifications are used as a broadcast tool by Marketers, often ignoring the fact that timing plays a crucial role while disseminating information using push notifications.  The folks at Localytics have compiled a list that explores six unique ways of using push notification here.
Recommended Tools: Localytics, UrbanAirship, Mixpanel
In-App Messages
In-app messaging is another mobile-centric platform that offers value while promoting a referral campaign. This marketing tactic usually provides crisp information to users by using a pop-up. The messages are often targeted to the users when they are active, unlike push notification which can be sent irrespective of a user activity. Because of their rich experience, Marketers can use this tactic to upsell their referral campaigns.
Recommended Tools: Braze, Intercom, Localytics
Mobile SMS
While we've progressed from SMS to other messaging services such as Whatsapp, mobile SMS still has its own loyal following. It is an ideal platform if you are promoting your referral campaigns to elderly or in a country which still shows higher volumes
Dedicated Mobile Banners
Having a dedicated banner for your mobile app users will help in maintaining a mind recall, each time they browse your app's offering. It is a simple, cost- effective way of promoting a referral campaign.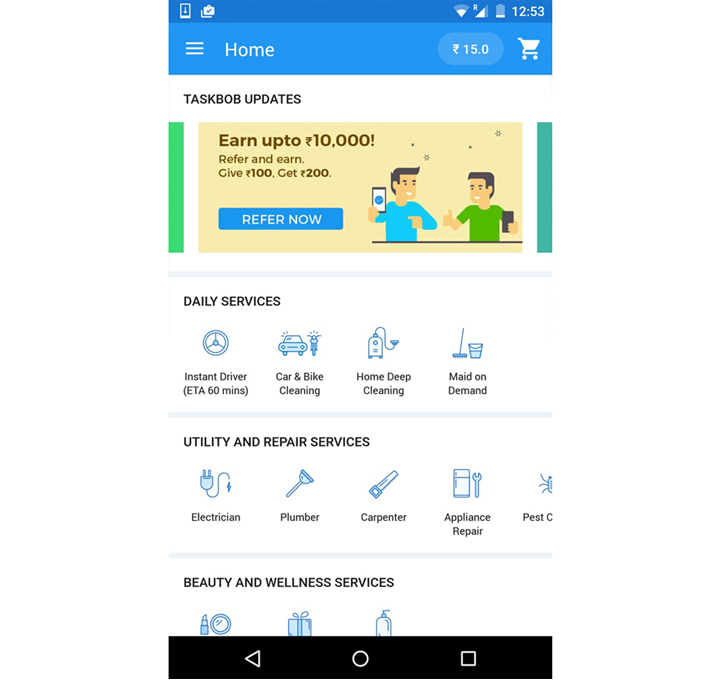 Mobile Banner Ads
Although most Marketers squirm at the thought of intrusive mobile banner ads, for many it is an ideal way of reaching their user base. Marketers leveraging mobile banner ads to upsell their referral campaign should focus a lot on the attention span of users before crafting the message.
Bots
The world of technology is experiencing a shift in paradigm and is swept by a bot revolution. Every brand is in a rat race to provide bot interaction to its end users. While such Marketers realize the significance of bots, there's much focus on the various ways it can boost ROI for them. Customer support and booking are a few ways however, imagine if bots can be programmed to upsell your referral program!
B) Using Website Property
There are numerous ways Marketers can leverage their website properties to promote their referrals.  We've listed a few for you to explore.
Web Push Notification
Web push notifications have caught fancy of Marketers across the globe within a small span. There's always a debate between the rise of mobile, however web continues to thrive, and that's where web push notifications work like a charm in re-engaging dormant users as well as a valid playground for promoting a referral campaign.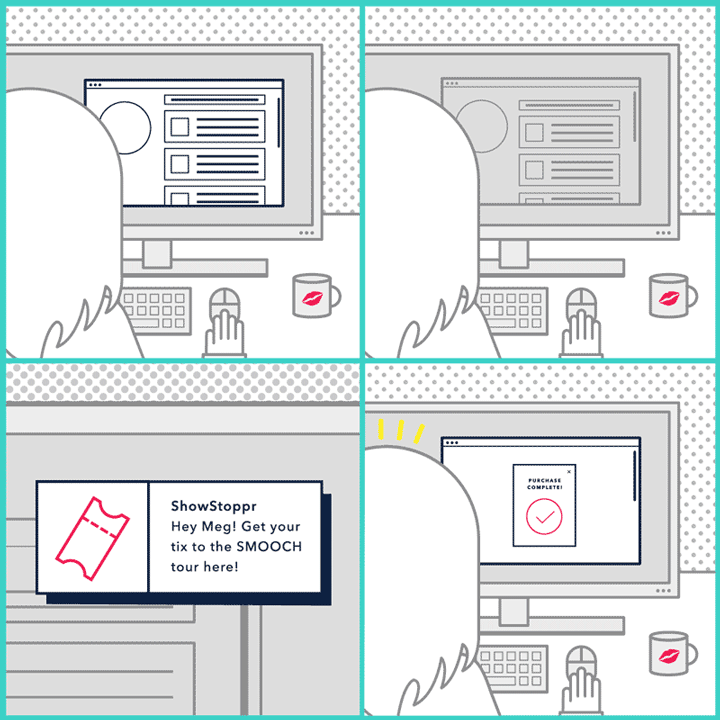 Recommended Tools: Braze, Pushcrew
Using User Account
Many businesses such E-commerce or SaaS, expect users to create an account to enjoy their services. Such individual dashboards are an ideal platform to include a refer-and-earn message. Shoeboxed– a SaaS product follows a similar path and motivates it users by a strong message that suggests 'Your Account Could Be Free,' thereby inviting them to participate in their referral campaign.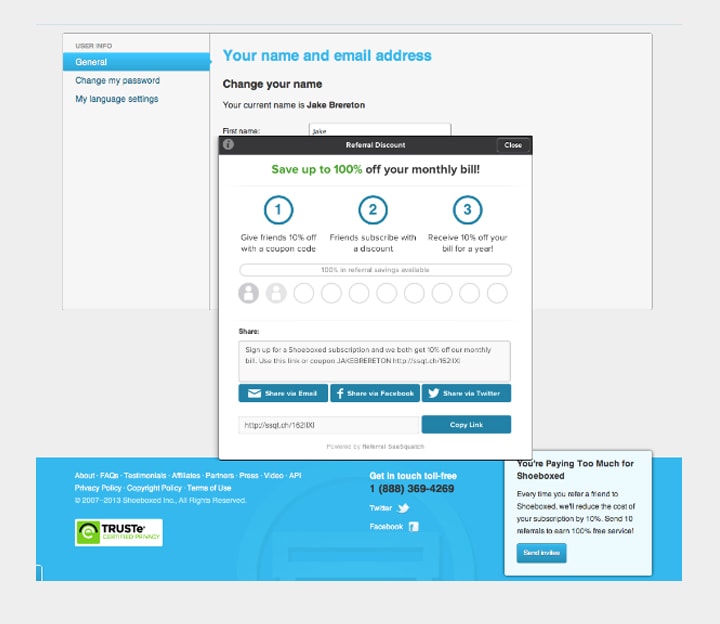 Using Website Banner
Promoting your referral campaign as using a website banner is an age old tactic, but still works well. Numerous brands use website banners to promote their referrals especially during a Sale or festive period to gain the most from it.
Dedicated Landing Page
Brands like Evernote have found a way of promoting their referrals by hosting a dedicated landing page. It reflects the brand's healthy attitude towards referrals and one of the key factors for its popularity.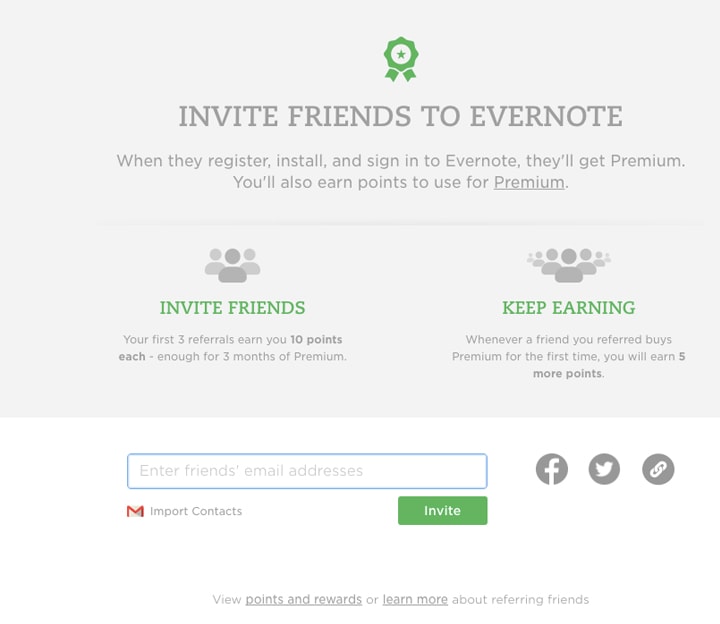 Checkout Page
Chekout page is an ideal place to position referrals since a user is usually not preoccupied with tasks. This way he/she will be more open to referrals as compared to other intrusive methods.
C) E-mail
Not using emails/ email marketing channel to its fullest is a petty excuse that Marketers often give themselves. There are numerous ways to leverage emails to promote a referral program and we've listed a few for you!
Adding It To Email Signature
As employees, we send numerous email each day and therefore the best evangelist for our company's referral campaign. Adding it at the bottom of our signatures is a classy way of it being noticed by industry friends and influencers.
If you are a small team, tools like Mixmax can help you add personality to your referral links through their awesome signature feature.
Updating New Users Via Welcome Email
Updating your new users about your referral program via the welcome email is a clever strategy used by UBER. If yours is a mobile app that's using referrals as a growth strategy, you may lack the privilege of reaching out to your users now and then, unlike SaaS products.  Integrating referrals in welcome emails thus becomes vitally important.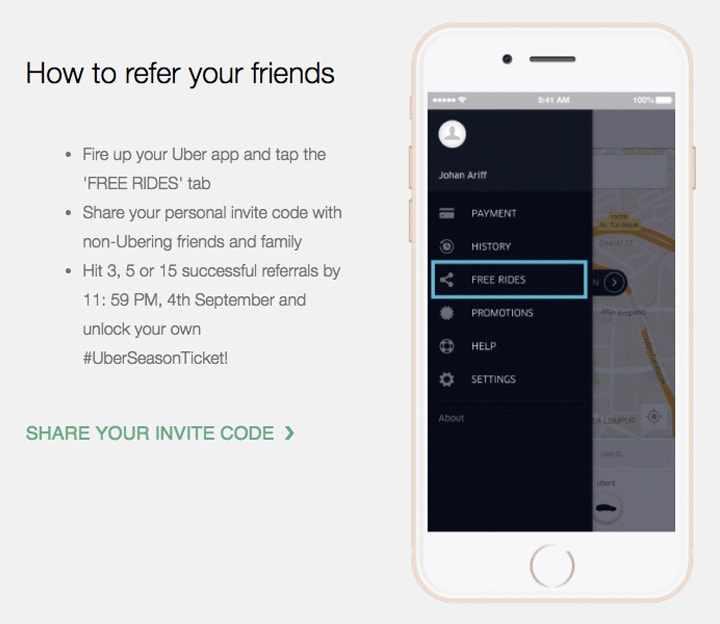 Updating Existing Users Via Newsletter
Sending a blast newsletter to existing users is the best foot forward to update the entire user base about your referrals. Our advice is to run an NPS survey to check the readiness of your users before you start expecting them to participate in your campaigns.  
You can build the system in-house or leverage the expertise of tools like Promotor.io
D) Social Media Channels
Social media channels are a Marketer's best friend when it comes to referral promotions. A few methods of leveraging social media channels are discussed below
Integrating Landing Pages With Social Sharing
Most brands that have found value from their referrals have integrated their landing pages ( on web and on mobile) with social icons and pre-programmed message for swift actions like the one below by MakeMyTrip.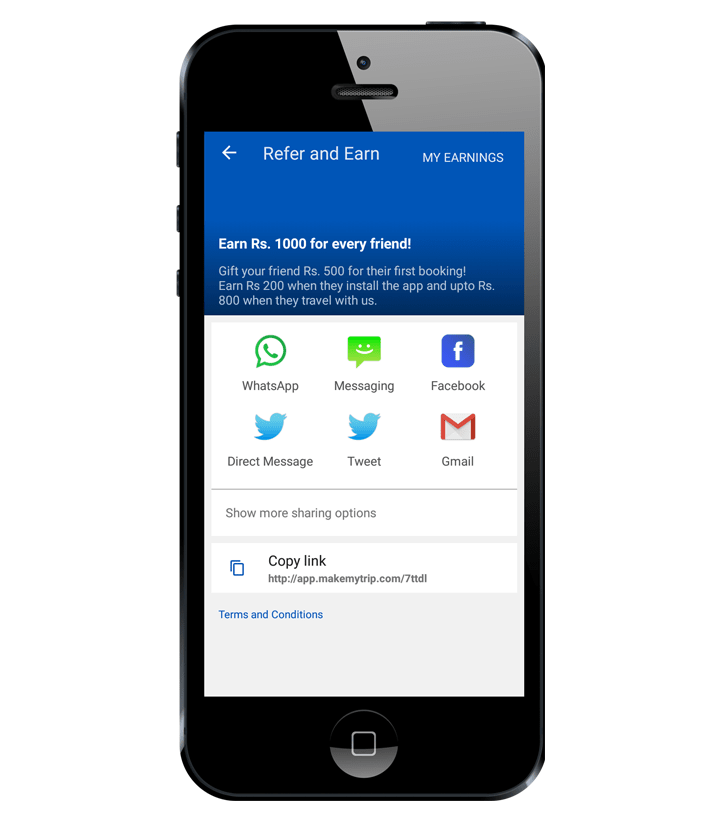 High engagement platforms such as Twitter and Facebook see plethora of users eyeing referral program and are the first ones to disseminate any information from their personal accounts.
WoooHooo! We've launched double referrals for this weekend only! Give £20 and get £20 when you refer a friend to Laundrapp.

— Laundrapp (@laundrapp) June 24, 2016
Adding Refer-and -Earn As A Pinned Post
Pinning your referral campaign on your social media accounts such as Twitter, Facebook and LinkedIn can help probable users take notice, thereby increasing the participation rate of referrals.
Adding It To Social Media Description
Social profile on Twitter garner a lot of eyeballs and is an ideal place to highlight your refer and earn campaigns.
Running Social Media Ads For Promotions
Gone are the days when social media ads were used for the sole objective of promoting a service. Marketers have unearthed savvy ways of using social media ads for hiring, finding a dream job or even finding a bride! Quite frankly we've come a long way. Using social media ads can help Marketers promote their referral campaigns to a targeted audience for a small fraction of budget.
Introduce A Pre-Launch Refer-And-Earn Contest
Everyone on social media loves contests, I mean who doesn't want a freebie? Running a pre-launch campaign to highlight an upcoming refer-and -earn campaign can build up traction around the same.
E) Miscellaneous
Promoting a referral campaign needs constant innovation. We've listed a few more ideas for inspiration.
Highlighting Referrer Of The Month
A huge win for Marketers can be highlighting the referrer of the month. Research done by Nielsen states that 83% of users trust recommendation from friends and family. A strategy like the one mentioned above can strongly influence the decisions of your prospects.
Referrer of the month can be highlighted on the website or social media pages. Brands like Dunkin Donuts have used a similar strategy in the past.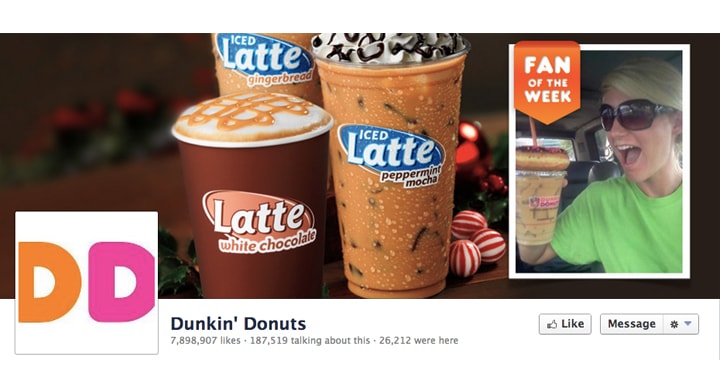 Upload User Experience Testimonial
User testimonials that sing praises about your referral campaign can spread like wildfire and a great way of promotion.
Over To You
We've listed around 28 big and small techniques for you to boost your referral promotions and we sincerely believe that you would have already narrowed down on the ideas that you can implement asap.
Have we missed a trick here? Do let us know in the comments below.
Image Source: Medium|Static Wixstatic|Afr| Braze| Shoeboxed|Amyporterfield